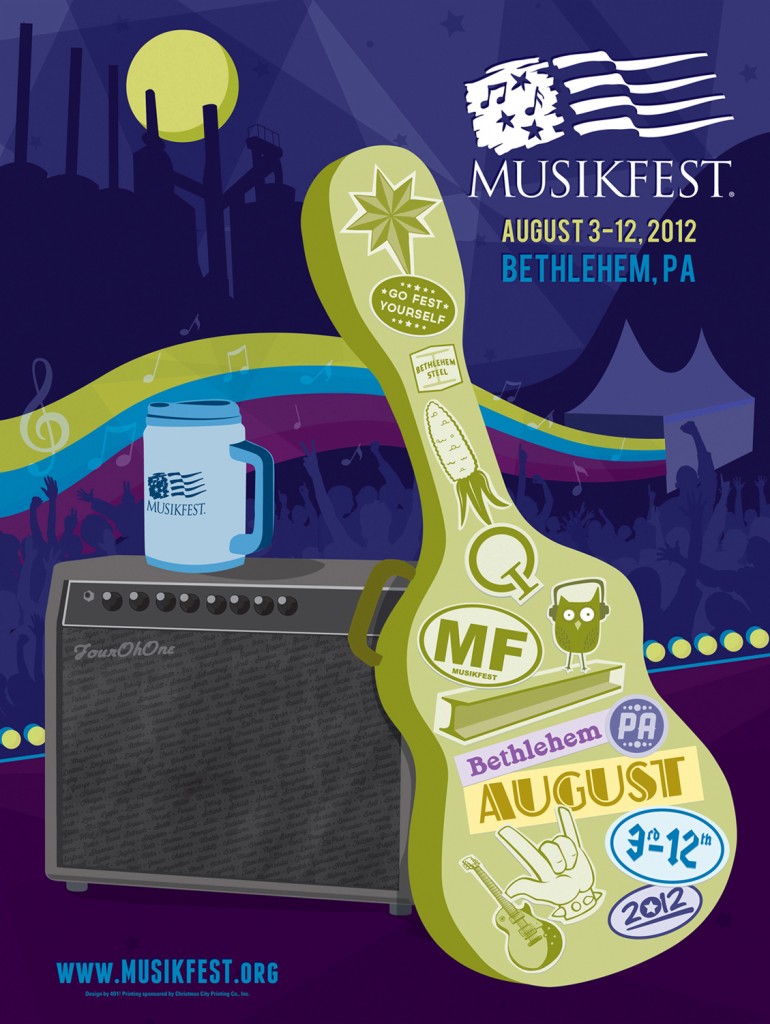 As Musikfest 2012 draws close, some details about minor changes and event information have slowly started to come from Artsquest.  This year Lyrikplatz, the small singer-songwriter stage that in the past has hosted acts like Brittany Ann and the Freak Owls,  will be moving indoors to the Frank Banko Alehouse Cinemas.  The new stage will feature a 200-person seated theatre for shows.  An adjacent theatre will host jazz acts in a 100 seat venue. 
Although understandable that Artsquest is looking to move any and all acts they can indoors after last year's flooding debacle, this could severely limit the amount of exposure these small up-and-coming artists receive.  Previously Lyrikplatz was situated on a heavily traveled walkway next to the Hotel Bethlehem.  This would give the performers a lot of visibility to people walking by and cause many of them to stop and listen.  With the theatres that visibility is gone, and only the people who care to read the schedule or already know about the band will most likely happen upon the shows.  Before far more then 200 people would stop and sit on the grassy bank at Lyrikplatz.  Now many will probably miss these talented artists completely.
A welcome move is that the Musikfest Café will now be admission-free.  Although the acts won't be as big as the names they had booked for the paid concerts last year, free shows are always a great thing. 
The Musikfest 2012 poster has also been unveiled.  401 Creative first worked with Musikfest last year for their poster.  This year's is much nicer…although still cartoony it seems a bit more mature in substance.  You've got the same stage/crowd motif an an interesting twist: the amplifier features the names of people that donated to last year's Save Our Songs campaign.  There's a couple nods to the olden days (the I-Beam and the Bethlehem Steel logo), Musikfest staples (Aw Shucks corn and the Musikfest mug) and other randomness (an owl with headphones and the comical "Go Fest Yourself" sticker).  One thing that made us scratch our heads is the hand that's presumably supposed to be throwing up the bull horns but instead makes it seem that Artsquest is proclaiming its love to us.  Besides that fault the 2012 poster is by far and large an improvement over last year's.
Musikfest also let it out today that they'll be announcing a headlining show on Radio 104.5 this evening (our guess is Young the Giant).  This is a marked change from last year when all shows marketed through radio stations were through local stations.  104.5 is a popular alternative station out of Philadelphia that caters to a wide market, including the Lehigh Valley.  Artsquest partnered with the station to promote their upcoming Nowadays festival as well.  Hopefully this indicates a relevant, popular act coming to the festival.  104.5 has been known to pick up indie hits early on before they gain significant traction on Billboard charts.  It's a great partnership for Artsquest, filling a media sponsor and niche that isn't found from any broadcasting station in the Lehigh Valley.