Greetings all, it's time for another wonderful edition of "Your Guide to Musikfest"!  We know there's been quite a bit of radio silence lately, but things have been extremely busy on the personal end.  We're hoping to pick back up on LV food/drink/music coverage starting now, so look for a slurry of posts coming soon.  If you've been here before for our Musikfest coverage, some of the information has changed some of it has not.  If you haven't been here before, or been to Musikfest at all (seriously? Amatuer.), check out the below info for some no-nonsense advice on how to enjoy and get the most out of your festing activities.  Also remember to check back every morning for music suggestions and every afternoon/evening for photos and show reviews of the day before.  Without further ado:
Getting There
This is the worst part of Musikfest. If you're looking to park extremely close to the festival, good luck.  Most likely you'll end up wanting to killdozer something and that's not what you want to start off your experience.  There's two off-site lots (at Martin Tower and 240 Emery St off of  Route 412) that allow you to park and take a shuttle (for $4 to the festival.  Trying to park on the street is next to impossible and will most likely result in a parking ticket (the fines for which are conveniently raised for the week).  You can also park over at the Sands Casino lot or parking deck and head over to the Artsquest area or try your luck parking at an exorbitantly-priced private lot around the festival area.
Musikfest is divided into two sides, North and South. You'll either need to walk your drunk ass a good distance between the two or take the north/south shuttle bus (which is a $3).  All of your shuttle bus info including hours and such can be found here.
Drinking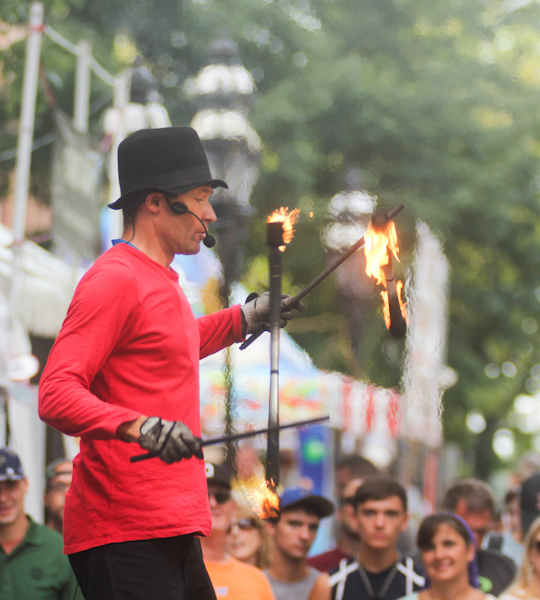 Drinking is one of the biggest parts of Musikfest for many, so we've got you covered on how and where to do it. First step: Buy a mug. Sure, you can buy individual beers, but they're smaller and if you plan on doing any real drinking at Musikfest you'll want a mug. If you like bells and whistles, get the mug that blinks for because when you're six mugs deep and dancing your ass off to Here Come the Mummies you'll be left wondering why you made such a poor life decision in not paying extra for it.
The Musikfest tents generally have sucky beer (although it's gotten a bit better in some areas). It's unfortunately a fact of life.  There's some better options depending on the tent, but the best beer and the best beers are still found at non-Musikfest venues.  Many places also offer cheaper refills than the Musikfest tents. So, where to go? If you're intent on hitting up a Musikfest tent the best one to go to is Liederplatz (on the North side, off of Main Street). It always has the shortest lines and allows you to get in and out quickly. Below are a list of other, non-Musikfest venues to stop for a big variety in beer selections or cheaper refills:
Southside:
Bonn Brewing: These guys get top billing because they just opened.  Just a few block from the SouthSide campus, there's no reason not to pop in and check out this extremely new brewpub.  They serve beer in 4oz and 8oz glasses, as well as pints, so you can try a variety of things before deciding what you want to fill your mug with.  Mug fills are $7-$8.  Again, they're brand new and working with a small staff, so bear with them as they get their first fest under their belts!
Southside 313 Bar & Grille: These guys have been very quiet on social media so we're not sure if they're actually offerings mugs, but they probably are.  We checked earlier this week and they had Hijinx CitraSqueeze on draft, so even if they aren't, it's a decent spot to stop by and have a pint away from the madness.
The Bookstore Speakeasy: This is another one who has been quiet lately, but they're off the beaten path and won't be as insanely crowded as most SouthSide venues.  A good diversion if you're looking for something different.
Steel Pub: They usually have some Victory and random stuff on draft inside. They also usually have a truck or two serving beer outside for $6 a mug with craft beer, but unfortunately like everyone else, they've been a bit lax on information this year.
Social Still – this is a great spot for fest-goers to pop in for a cocktail and get away from the beer for a while.  They're a distillery, so they make all their own booze their, including gin, rum, vodka, and whiskey.  Mixed drinks, booze neat or on the rocks, they have it all.
Levitt Pavilion and Musikfest Café – right on site at Artsquest, the Musikfest Café usually has a bigger variety of beer than the tents do, including ciders and local beers. The Mack café at the Levitt Pavilion also has craft beer options, with Victory on draft.
North Side:
The Brew Works – by far the best place to get beer during Musikfest on the NorthSide. They have a wide variety of beers at decent prices. It gets busy during Musikfest, but no worse than the beer tents.  We're also told that, for the first time ever, they're going to be running a $5 Valley Golden special for mug fills.  You can also check out their selection of Bethlehem and Allentown-brewed beers online before you head there.
Colony Meadery – While these guys fall into the unfortunate realm of a lot of the SouthSide businesses in that they haven't posted anything specific for Musikfest, they'll be open the regular hours of the Moravian Bookshop at the least and will be serving mead inside of the shop.  Their draft meads are a perfect escape from all the hops and malts flowing around the streets.
The Brick – The Brick, like other years, is offering up fair priced Musikfest mugs of craft beer.  We're waiting on specifics, but last year their had the likes of Brooklyn Brewing and Victory Brewing for ~$6.
Wooden Match – The Wooden Match always has a great selection of craft brews on draft inside, including 40 drafts.  They usually have trucks stationed outside, but the beer inside is usually better quality.  This year they're charging $8 per mug.
Corked – Located on Main Street, they have solid selection.  If you're not into the Brew Works offerings, this is the place to go.  Bonus?  They're one of the only venues this year to post up exactly what they have and how much it costs, so kudos to them.  Head on over to their Facebook page and see their draft list and mug refill prices, which mostly range from $7 to $11 depending on the rarity/ABV of the beer.
Hotel Bethlehem: They serve generic beer and Guinness for mug refills, usually a dollar cheaper than the Musikfest tents.
Rosanna's: They're always doing cheap mug refills of the Miller/Coors variety at this Italian joint located a block away from the main action at Broad and New Streets.
Penn Pizza: Just down from Rosanna's on New Street is Penn Pizza who also does refills of Coors/Miller for a discounted price.
Joe's Tavern: One of the dirtiest dives in all of Bethlehem, if you're looking for cheap beer and weird company, this is the place to stop in. If not, get your cheap beer and get the hell out of there. Gets mobbed during fest.
Ripper's: A similarly disgusting bar with lots of pretty motorcycles parked outside to look at, Rippers does cheap mug refills of swill-ish beer.
McCarthy's – If Euro beers are your thing, this is where you want to be.  They'll have Guinness, Harp Lager, Smithwick's, Kilkenny Irish Cream Ale, Innis & Gunn Scotch Ale, and Magner's Pear Cider on draft, as well as a few other craft and domestic brews.
Sun Inn – Conveniently located across from Brew Works and on Main Street, the Sun Inn has been serving beer for the past few years to great success.  This year they report that they'll be offering $5 craft beer mugs, making them one of the best values in the game right now.
Eating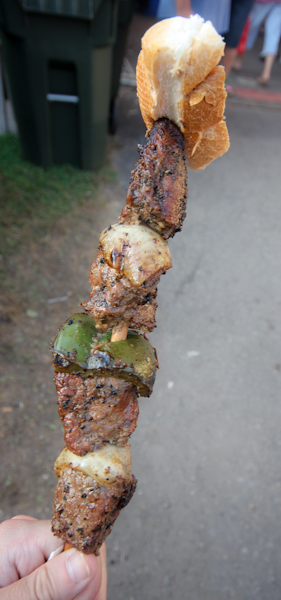 There's so much shit to eat at Musikfest it's almost a daunting task to decide what to have. Over the years we've spent an ungodly amount of money and time trying the best and the worst. Here's where and what you should shove down your gullet to soak up all that beer:
Aw Shucks: Easily the greatest corn-on-the-cob you'll ever have. They bathe it in butter, roll it in parmesan, and top it with some mild spice that makes it irresistible. This stuff is also easy to walk around with and eat at the same time. Grab it on the way to an act and be ready to sit and digest when you get there. Beware, it's addictive. Like crack. Located at Americaplatz, Handwerkplatz, and Plaza Tropical.
Bee's Knees – holy shit they're back. The purveyors of everything cheesy and good in the world, these expensive-but-totally-worth-it grilled cheeses will make your drunk ass happier than an Irish guy at a whiskey tasting.  Located at Volksplatz.
Cinanamini Donuts – the only description for this stand is "mini donuts".  And that's all I need to know.  Going.  Located at Americaplatz at SteelStacks.
D&J Concessions – because you're a dirty person and you know you want deep fried Oreos. Located at Volksplatz and Plaza Tropical.
FudTruck –  Because Smoked Sofrito Chicken Tacos, BBQ Beef Brisket, Pulled Pork, Sourdough Grilled Cheese, Pierogies, Chick Pea Popcorn, Fresh Cut Fries are literally everything you want in life when you're plastered and wobbling around Musikfest like a chicken with a broken leg.
Hogar Crea – Oh dear shish kebabs.  They could stop wars.  They could end world hunger.  They could make Donald Trump be less of a raging lunatic asshole.  Yes, they're that magical.  By far our favorite Fest food, they feature big, delicious beef chunks that are cooked over huge, smoky pits that you can smell a whole platz away. Intermittently interrupting the giant stick of meat are onions and peppers cooked over those same pits. Just a tiny bit of char on the edges mixes oh so well with the sweet, tender veggies. If you eat nothing else at Musikfest, eat these shish-kebabs. Located at Handwerkplatz by the Aw Shucks tent.
Senseing's Meats and Catering – these guys seem to be new on the scene, which seems good to us.  Lots of smoked meats, fries, and sausage, we're in.  Expect a full report on their lineup by the end of fest.  Located at Volksplatz.
Take-A-Taco: Quite possibly the area's favorite festival food. They show up all over the place…Mayfair, MFest, Allentown Fair, etc. And their tacos are damn good. The taco bowls are great too. Just get anything and you'll be happier than an owl on a Musikfest poster. Located on Main Street and at Festplatz.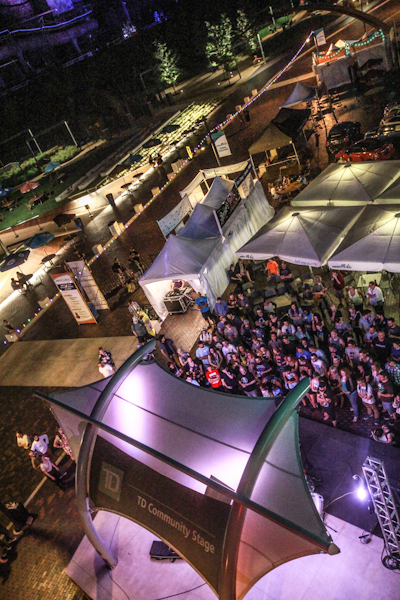 Taza Truck – while not part of the actual Musikfest, meaning they take cash and credit, not tickets, these guys rock one of the best food trucks in the area, so if you haven't had their stuff, now is the chance to stop by.  Their hummus is killer, as is most everything else on the menu.  Located at the Sun Inn on Main
Street.
There are, of course, tons of other options available throughout Musikfest.  Check them all out here and by all means, tell us in the comments, on Facebook, or on Twitter what kind of good eats you've had throughout the festival.
Other Notes:
It looks like they actually finally made a real stage on Main Street from driving past it today.  That is a vast improvement on the hobo camp-like setup they were rocking forever that resulted in shitty acoustics, bad traffic flow, horrid lighting, and just a generally underwhelming vibe for anyone watching a show or playing one at that spot.
The wooden bridge that connects Festplatz to Handwerkplatz is closed.  This is obviously, to anyone who has been to the festival, a favorite way of getting from one part of the festival to another.  The city recently deemed the bridge unsafe so now we're stuck walking a lot of extra steps.  Make sure you're wearing your FitBit.
Music:
Last but not least. We'll be updating every day throughout the week with our picks for each day, as well as our usual reviews and recaps throughout the festival. See something cool? Post it on our Facebook page or share it with us on Twitter.