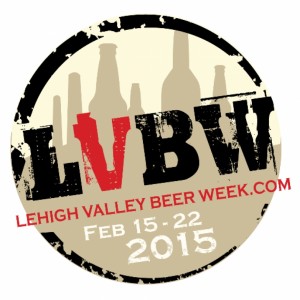 This Sunday kicks off one of our favorite times of the year, Lehigh Valley Beer Week.  We've combed through the many events listed over at the official site and came up with a list of our picks for the week.  Please note this is not exhaustive…there's a few events that sound great, but there are no tap listings available.  Make sure you peruse the event calendar over at the beer week website…you may find an under-the-radar gem.  There's also a ton of music, trivia, and tap-takeovers going on all throughout the week across the area.  We'll update this post as beer week nears with any additional events, listings, and updates that we see.
Sunday, February 15th
LVBW3 Kickoff at Allentown Brew Works – This is obviously the event to be at on the first day of Beer Week.  LVBW3, an imperial IPA, will be tapped and free samples will be handed out. 
Monday, February 16th
Funk Brewing at Trapp Door – Kyle Funk from the brewery will be on-hand to talk brew and they're pouring LV Slammer, an English mild brewed specially for LV Beer Week, Anniversary 365, Efflorescence, Citrus IPA, and a specialty firkin.
Bourbon Barrel 16th Anniversary at Bethlehem Brew Works – This beer is absolutely killer.  It's the Brew Works 16th Anniversary beer, which was a strong wheatwine, aged in bourbon barrels for almost a year.  We had more than a few tastes of this at the Brew Works Whiskey Festival last year and it's stellar.
Wild Wheat at Allentown Brew Works – Here's another reserve offering from Brew Works that you might not see again for a long time.  This is a Belgian-style wheat aged in wine barrels with Brett for over two years.  Sounds absolutely killer.
Tuesday, February 17th
Goose Island at Black and Blue – Did you miss the Bourbon County rush a few months ago?  Here's your chance to have Bourbon County Stout and Barleywine on tap, along with GI's sour Lolita.
Hop Head Heaven at Strange Brew – This is easily one of the best events of beer week.  Check out this list full of hard-to-get and world-class IPAs that the Brew has lined up:
Avery Majaraja
Baird/Ishii/Stone Japanese Green Tea IPA
Ballast Point Grapefruit Sculpin
Ballast Point Sculpin
Bear Republic Racer X
Bells Hopslam
Boulevard Pop Up IPA
Bullfrog Edgar IPA
DC Brau Alpa Domina Mellus
Deschutes Chain Breaker
Destihl Vertex
Firestone Walker Double Jack
Firestone Walker Union Jack
Green Flash Palate Wrecker
Lagunitas Night Time
Nogne O Two Captains
Pizza Boy  West Shore IPA
Troegs Nugget Nectar (cask)
Berliner Weiss tapping at Allentown Brew Works – Brew Works is tapping a reserve keg of their award-winning Berliner Weiss and they've only got one keg left.
Wednesday, February 18th
Double IPA Release at Funk Brewing – Funk Brewing is releasing their new Double IPA at 5pm and the first 24 people in the door that order one get to keep the pint glass.  Yes, that means Funk's long-awaited ability to serve pints of their beer is finally here.  The brewer's tasting notes: "Strong aromas of melon and underlying pine accompanied with resinous flavor and a touch of pink guava balanced by a finishing note of warm alcohol sweetness." h/t to @katiepaynter for the heads up.
Sour & IPA Day at Spinnerstown – Spinnerstown, not even really in the Lehigh Valley, kills it every beer week, and this is no exception.  They're tapping some goods like Bear Republic's very highly rated (and mind-meltingly sour) Tartare Berliner Weiss, Russian River Temptation (Spinnerstown is the closest place to the LV that you'll find Russian River's highly coveted brews), and more.
Friday, February 20th
Open the Trapp Door at Trapp Door – Trapp Door is seriously throwing down the gauntlet with this one.  They've been cellaring a whole bunch of bottles for release and there's quite a few gems in there.  Here's some of the highlights: Pizza Boy Grasslands, Pizza Boy Golden Sour, Pizza Boy Eternal Sunshine, Ballast Point Grapefruit Sculpin, Bruery Rueuze, Avery Tweak, 2013 Goose Island Bourbon County Stout, 2013 Goose Island Bourbon County Barleywine, 2013 Cantillon Kriek, 2012 Weyerbacher Riserva, and many, many more. 
Saturday, February 21st
Stouturday at Strange Brew – This is another event with a secret taplist that won't be revealed until the night before, but if you covet dark beers this is a must-attend.  It's filled with rare beers, classics, and things that simply cannot be found in the Lehigh Valley.  This is probably the best event going on all of beer week.