Last month the Sands Casino hosted the third annual Lehigh Valley Food and Wine Festival.  This year the event changed quite a bit, as it was moved indoors to the Sands Bethlehem Event Center and spanned two days instead of the usual one. 
The event itself was fine as always, but certainly not without flaws.  To be honest, it was kind of better outside.  Albeit the event has, since its inception, enjoyed perfectly beautiful days, the decision to move it indoors is of course understandable.  But that meant the atmosphere was missing that balmy, light wind coursing through the open areas of the outdoor tent it was previously held under. 
The other slightly disappointing aspect was that some of the restaurants chose to participate only on Sunday, leaving the people who attended the first day (like us) without their delicious food.  There were only four that opted out of Saturday (Blue, Edge, Melt, and Tapas on Main), but it was still a bit of a bummer.  That brought the number of restaurants present on Saturday to 20, down from last year's number of 27.  The wine list was also curiously smaller, down to 34 wines this year from last year's 45.  Not that there wasn't an abundance to go around, however.
The event this year included three additional aspects: a spirits tasting room, a champagne tasting room, and a cooking demo by celebrity chef Emeril Lagasse.  The tasting rooms were a $25 additional fee to take part in and were certainly worth it.  The spirits room alone had a swath of different bourbons, premium scotch, tequila, and other spirits that could take a few hours alone to work through and savor.  If they do these again next year and you're attending we'd highly recommend taking part in these. 
The cooking demo, however, was not worth the $50 additional entry fee.  It's always at least mildly interesting to see a celebrity doing their thing, but we felt bad for the people that paid that much to see what was basically a live Emeril's show in a small, hot room.  Lagasse worked through a few dishes, sticking to the Italian theme he presents in his Emeril's Italian Table restaurant at the casino.  He demonstrated proper prep and cooking techniques for artichokes, a traditional caponata, and a carbonara dish.  
The coolest part of the entire thing, however, was when the spotlight was put on the Northampton County Community College culinary program.  Earlier in the year the students competed against each other in a Chopped-style cook-off.  The students prepared an appetizer, a salad, an entrée, and a dessert using ingredients from a mystery basket.  Three of the students, Emily Heydt, Tyler Baxter, and Olivia Razzano, won and as a prize will spend an all-expenses-paid week in New Orleans to work with under Lagasse at his NOLA and Delmonico restaurants. 
So, what about the food, then?  It seemed this year, unlike years past, there were many more misses with few dishes really shining.  Emeril's Burgers and More restaurant prepared the best slider of the day, using aged cheddar, creole mustard, and a crunchy slaw to liven it up.  St James Gate had a lamb burger featuring goat cheese, pickled radish, and an apparently flavorless rosemary aioli that was so completely marred by dryness it didn't warrant finishing.  On the other hand their petite fish taco with beer batter cod bites, lime/cilantro slaw, and wasabi-ranch dressing was such a left field take on traditional Irish food and so damn tasty it may well have been the best dish of the entire festival.  The salinity of the battered fish with the acidity of the slaw and the spiciness of the dressing all commingled beautifully. 
Another really stellar dish was Cosmopolitan's Washington cherry and local strawberry soup.  The chilled concoction added texture with a snappy sesame seed tuille and would've been the perfect dish to enjoy al fresco on a hot summer day.  The dry-aged Pennsylvania strip loin that Emeril's was serving up looked gorgeous but was unfortunately masked by an overpowering truffle-scented roasted onion relish.  A bit-sized version of the restaurant's signature banana cream pie proved to be a much better option.
The Hampton Winds is usually stellar in their presentations at these events but their lamb tangine in phyllo dough cups with a citrus couscous was less then exemplary.  The whole thing seemed muddled and bland.  Their whoopie pies were moist and heavy, just the way they should be. 
Rodale did a take on Pittsburgh rare steak with a truffled beef tartare with chive vinaigrette displaying a serious burn characteristic.  In the past we've bemoaned with Shula's, obviously known for their steak, bring something other than their star ingredient.  This year they delivered and were serving up blackened tenderloin tips that were bright pink in the middle and as soft and tender as a stick of room temperature butter.  Absolutely awesome.  We didn't even bother hitting Villa Enterprises, who were serving up what seemed like boring Italian fare to a mind-bogglingly long line. 
Vintage's watermelon gazpacho with basil-scented crab meat salad was awesome, if a bit too sweet.  The presentation was also some of the best we saw all day.  Vision Bar was surprisingly good, serving up a vegetarian option in their zucchini, squash, carrot, and pickled onion-stuffed lettuce wraps doused in a pineapple plum sauce.  They were also touting buffalo pierogies, which were fried and tossed in wing sauce and topped with bleu cheese sauce, which could possibly be one of the greatest bar food ideas since duck fat fries.  
Despite the shortcomings of both restaurants and the event itself, we're forever grateful that there's an honest-to-god food and wine festival in the Lehigh Valley since every other remotely relevant city hosts one.  And to that, we raise a glass of bubbly.  A full rundown of wine and food served at the festival is after the pics.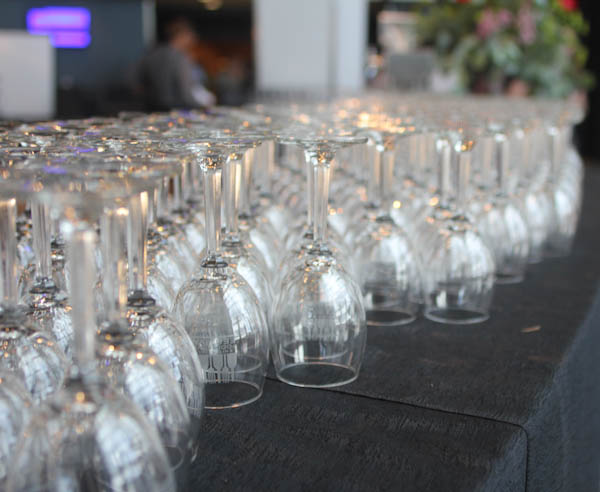 Vision's buffalo pierogies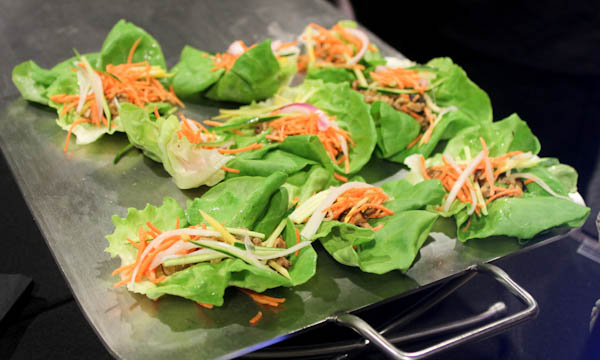 Vision's vegetarian dish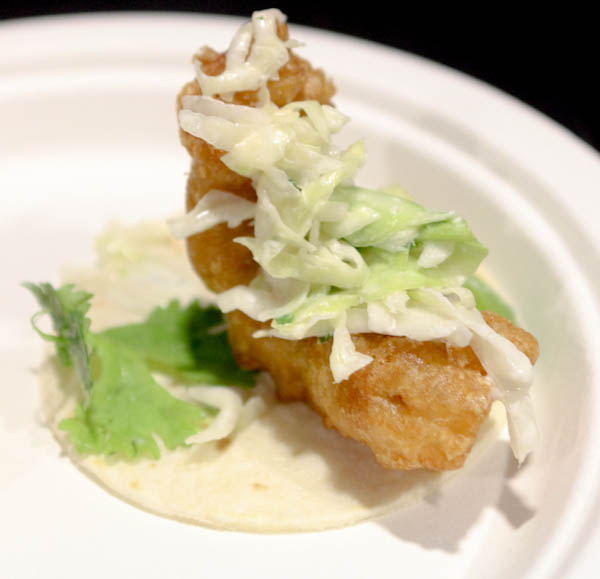 St James Gate's fish taco
Slider from Burgers and More
Mini banana cream pie cones from Emeril's Chophouse
Roasted yams with blackened chicken and red pepper chutney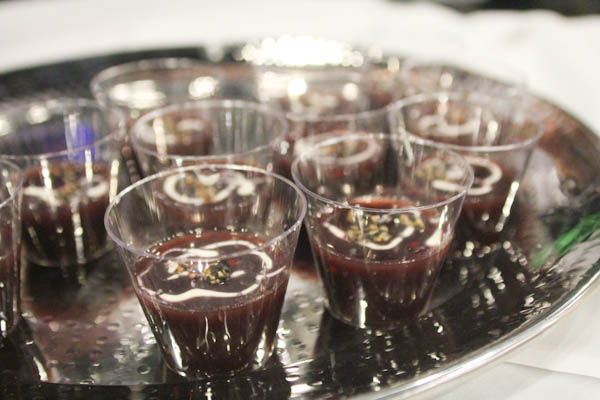 Cosmopolitan's cherry and strawberry soup
Chef Emeril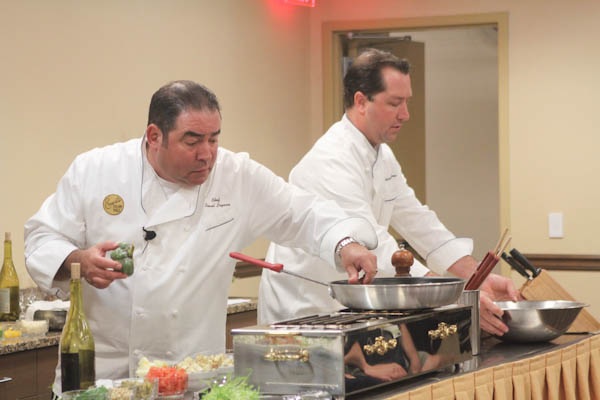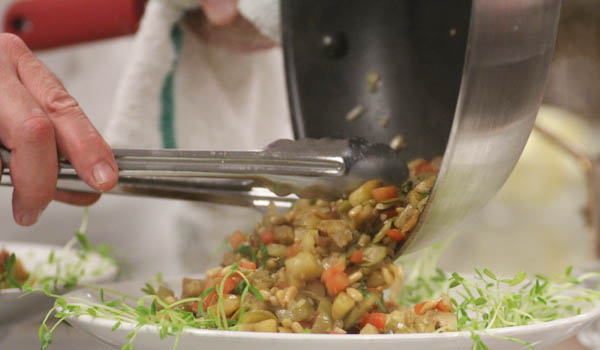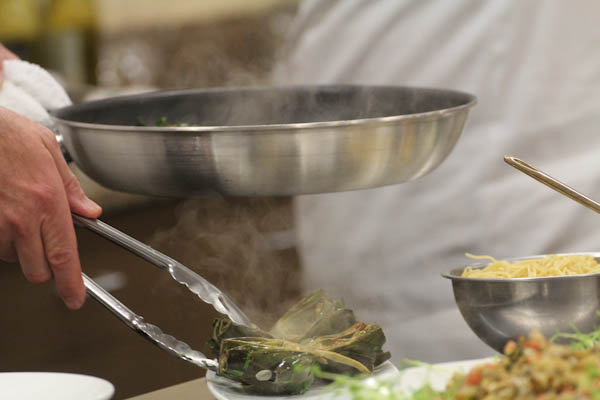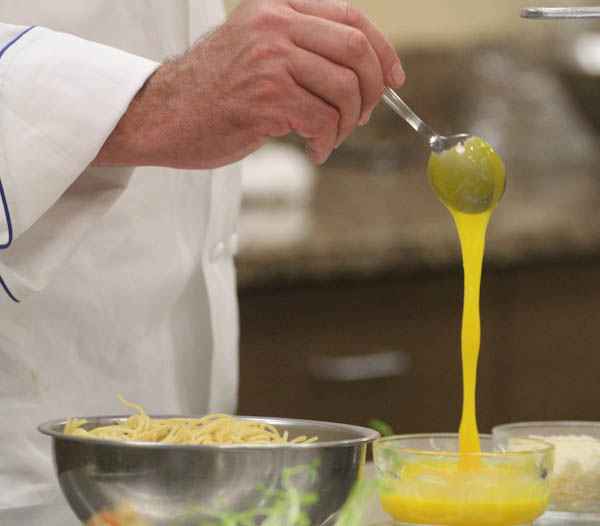 Students from Northampton Community College waiting to hear the winners announced
 
The three student winners of the Chopped contest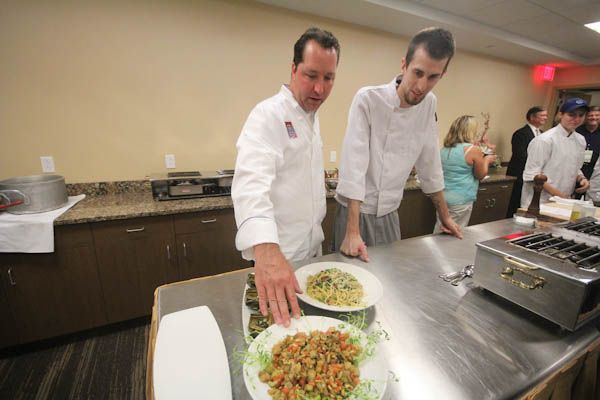 Emeril's head chef Chris Wilson explaining the dishes to NCC's Tyler Baxter 
Rodale's Truffle Pittsburgh Beef Tartare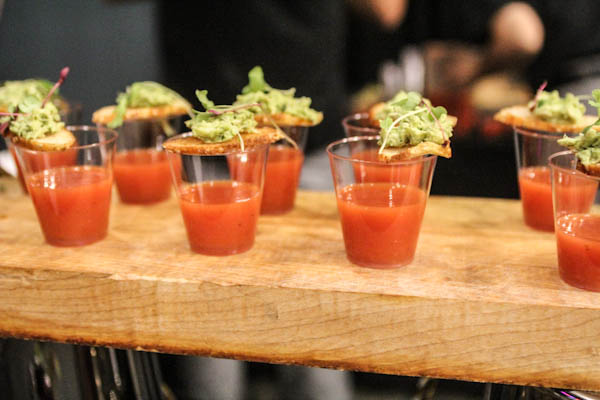 Watermelon gazpacho with basil-scented crab meat salad from Vintage
Blackened beef tenderloin from Shula's
Whoopie pies from Hampton Winds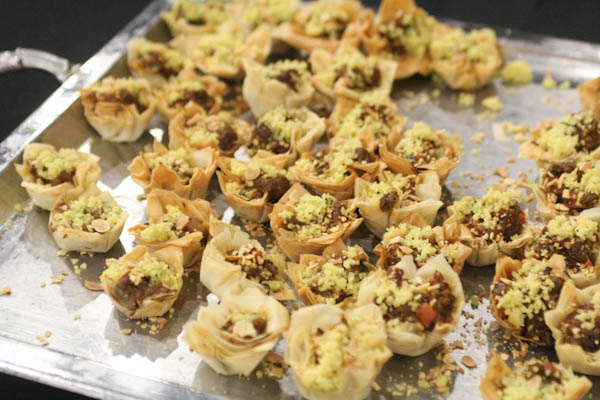 Lamb tangine in phyllo cups with citrus couscous from Hampton Winds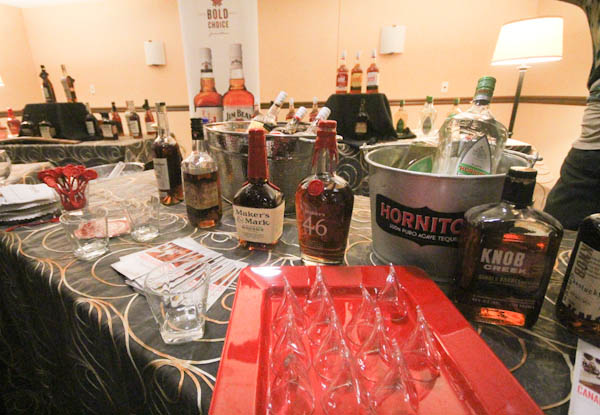 Some of the booze in the spirits tasting room
Full list of food/participants:
Burgers and More: Mini slider with aged cheddar, creole mustard, lettuce, tomato, and slaw.  Chicken slider with muenster, lettuce, tomato, and slaw.
Blue: Hawaiian smoked pork and spice cabbage salad
Bolete: Farm to table fare
Bravo! Cucina Italiana: Lobster ravioli alla vodka; housemade tiramisu
Carnegie Deli: Petite braised beef brisket sandwich, cole slaw, apple BBQ sauce; Shrimp salad on warm carnegie potato pancake, pepper cress
Cosmopolitan: Washington cherry and local strawberry summer soup, sesame tuille; Marinated lamb loin, pickled kirby cucumbers, pan-seared flatbread, yogurt sauce, basil caviar
Edge: Super lump crab salad with wasabi aioli and cucumber; Fresh strawberries with lychee puree, basil, and crispy rice pearls
Elegant Desserts: Assorted petit-fours
Emeril's Chophouse: Dry-aged PA NY strip loin, truffle-scented roasted onion relish; petite banana cream pies
Emeril's Italian Table: Eggplant and olive caponata, edive, pine nuts, rocotta salata; Porcini ravioli, artichoke pernod cream, basil pesto, pecorino
Hampton Winds: Lamb tangine in phyllo cups with citrus couscous; whoopie pies
Kome: sous vide chicken yakitor with spicy teriyaki and tiger shrimp ceviche; jalapeno yuzu citrus
Lee Gribben's on Main: Roasted yams with blackened chicken and red pepper chutney; Shrimp pinwheels
Melt: white balsamic marinated mahi mahi and sweet peppers
Rodale Catering: Truffled Pittsburgh'd beef tartare with chive vinaigrette; savory white chocolate cheesecake with crab, roasted tomato, and microgreens
Savory Grille: Grilled Morocan marinated chicken thigh, quinoa and goat cheese salad, lemon pepper vinaigrette
Sette Luna: Warm octopus salad
Shula's: Blackened tenderloin tips
St James Gate: Petite fish taco, beer batter cod bites, lime-cilantro slaw, wasabi-ranch dressing; Lamb-wich, ground lamb, goat cheese, pickled radish, rosemary aioli
Tapas on Main: Albondigas de Cordero (lamb meatballs in a Romesco sauce topped with slivered almonds)
Villa Enterprises: Pasta bar (spaghetti, linguini, fettuccini, ziti) with marinara, alfredo, or vodka sauce
Vintage: Watermelon gazpacho shooters with a basil scented crab meat salad
Vision Bar: Lettuce wrap filled with shredded zucchini, yellow squash, carrots, and pickled onions served with pineapple plum sauce; Buffalo pierogies, fried and tossed in mild wing sauce served with bleu cheese
Warm Sugar Cupcakery: Cupcakes
Wine served:
A Mano Primitivo
BR Cohn Chardonnay Carneros
BR Cohn Olive Hill Estate Cabernet Sauvignon
BR Cohn Sauvignon Blanc, Napa Valley
BR Cohn Silver Label Cabernet Sauvignon
Brancott Sauv Blanc
Campo Viejo Riserva
Charles de Fere Cuvee Jean Luis Brut
Charles Krug Chardonnay
Chateau Ste. Michelle Cold Creek Merlot
D'Arenberg Stump Jump Shiraz
Dr. Loosen Dr. L Riesling
Dry Creek Heritage Zin 07
Erath P.N.
Erath Pinot Gris
Fairview Pinotage
Ferrari Carano Siena
Graffigna Centenario Malbec
Haras de Pique Estate Carmenere
Hogue Riesling
Jacob's Creek Riesling
Kim Crawford Pinot Noir
Lamberti Prosecco
Mondavi Cab Sauv Napa
Mumm Napa Brut
Paco & Lola Albarino
Paso Creek Cabernet Sauvignon
Pinnacle Ridge Brut Rose
Pinnacle Ridge Traminette 11
Pinnacle Ridge Trio
Pinnacle Ridge Veritas
Pouilly Fuisse, Louis Latour
Puffino Chianti Superiore
St. Sulspice Bordeuz