Well, the Idiot's Drool release was kind of a shitshow.  It was still a good time though and according to head man Dan Weirbach, there's 2 or 3 (more organized) special releases lined up for next year.  Oh, and Riserva in January.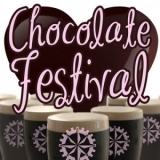 The Brew Works Allentown is having their first Fall Chocolate Festival.  And the beers they'll be serving?  I want.  Imperial Russian Stout with Chocolate Lab chocolate, Rude Elf's with chocolate, and a Double Chocolate Porter?  Definitely with I could hit this one.  Bethlehem Brew Works also have Baltic Porter on and have some interesting stuff in their fermenters, including Cold Rolling Cream Ale, a fruited ale, and "New Guy".
Lehigh/Lafayette is this weekend.  If you're going and tailgating, please get yourself some better beer.  Make a custom sixer or two at Abe's, grab a growler from Brew Works or The Trapp Door, or something other than shitty college-kid beer.  You're better than that.
Speaking of Abe's, they got a new website yesterday that doesn't look like complete ass (their old one did).  Let's hope they keep this one updated consistently.
A little celeb-ish news…apparently after their gig at Lehigh last night ska band Reel Big Fish was at Molly's.  I wonder if they have "Beer" on the jukebox there?