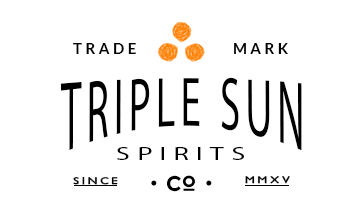 Look out Lehigh Valley, another distillery is in the works.  Local homebrewer and spirits enthusiast Kristofer Kwant, who will serve as the distillery's managing partner, is working hard to open up Triple Sun Spirits by late summer or early fall, and is targeting November for a grand opening. 
Kwant, an Operations Manager at a multi-national pharmaceutical company by day, began homebrewing in 2003.  He said the allure of "creating beer from scratch that I thought tasted great" was the catalyst for a passion that took him through the rigorous Beer Judge Certification Program testing, officer positions at a regional homebrew club, and multiple awards for his brews.  His interest in spirits came after joining an offshoot spirits aficionado group within his homebrew club and not long after, Kwant says, "it got me thinking about just really wanting to be a part of the industry along with the realization that craft spirits were where the craft beer movement was in the early 90's."  Enamored with the complexity of the beverages and the desire to learn more, Kwant began planning the distillery three years ago.  "I love to tinker and solve problems, and with distilling there's never a shortage of either," he remarked.  Kwant says his experience in the pharma world, with parallels of regulatory compliance, materials handling, and capacity planning, has uniquely prepared him for the distilling world.  "I wasn't uncomfortable diving into the deep end of the regulated manufacturing pool, so to speak.  That experience put me in a great position to take on the myriad of challenges that come with trying to launch a distillery."  While he hasn't had any formal distillation training, he has around five years of experience working with distillers to hone his skill.
He hopes to distill a citrus-forward American gin using local botanicals and a few varieties of rum.  He also plans to introduce a rye whiskey and a bourbon down the line.  Their barrel-aged products will utilize 25 gallon #4 char oak barrels from Kelvin Cooperage in Kentucky.  "The smaller barrels let us get some good color and flavor more rapidly without losing too much from evaporation, and getting a good oxidation mix… that size gave us the best balance for what we are looking to do."  Kwant said that he's hoping to have 14 barrels filled within the first few months to age for 2+ years before releasing them.  The distillery will be producing three days a week and switch off to retail sales three days a week.
Triple Sun's copper pot still is being hand-built by Hillbilly Stills in Kentucky, a family-run business.  "[The still] will really compliment the distillery, and also give us the characteristic flavors we're looking for from our rums, gin, and whiskeys," Kwant said of his custom still.  One thing we won't be seeing from the new distillery?  Gimmicky liquors like whipped cream vodka.  "There's nothing appealing to me about that, in my opinion.  One thing you should get out of an experience with our products is to come away with a clean, simple, and balanced spirit that isn't cloyingly sweet or has a chemical aftertaste that's common with a lot of those trendy spirits you can find on the market or in crazy bar shots."
Kwant joins a rush of distilleries opening up in the area, including Social Still in Bethlehem and County Seat Spirits in Allentown, who are currently operating.  In addition, Eight Oaks in New Tripoli, Blackplate in Bethlehem, Gallows Hill in Allentown, and the Sun Inn in Bethlehem are all in the planning or construction phases.  How does Kwant plan to differentiate his distillery in a market that's quickly gaining more competition?  "The real differences come from the fermentation, distilling equipment, and the barrel aging process. All these things are what make the difference. Think about going to a restaurant and ordering a steak. What's the difference between one restaurant and another isn't necessarily what comes in on the truck in the morning. The beef, the potatoes, and other things are pretty close from one place to another. The bottom line is how the chef prepares it, the style of cooking, and the attention to detail that makes it a $35 meal versus a $100 meal."  He notes that each distillery will have its own ambiance and vibe, and but the real difference will come in what the customers taste.  "There are a lot of people who won't pay $100 for dinner at a steak place, and that's OK. We're looking to focus on the attention to detail that justifies that price tag, though." 
The distillery's location is still being worked on, with a handful of options on the table.  We'll keep you up to date on Mr. Kwant's plans as more details become available.