This past weekend the West End Gastro Club held their inaugural chili cook-off at the West End Youth Center, pitting a number of Allentown chefs against each other.
During a rainy, dreary afternoon the atmosphere inside the chili cook-off was similarly low-key and subdued, yet had a good number of attendees coming through the door at various times throughout the afternoon.  Festival-goers saddled up around the bar for Duquesne Pilsener and cheered as the Flyers sealed the deal in their first playoff series. 
Judging the event was a fun time.  There were four judges and eleven chilies that were all tasted blind.  The judges were given the type of chili and a number assigned to each chili.  Each chili was then rated on a scale from 1-10 on color, aroma, aftertaste, consistency, and taste.  Total scores were then averaged and the judge's choice was determined.
Jack Callaghan's Alehouse went all out, pairing a smoked turkey chili hush puppies and their own Jack Callaghan's Ale.  Their second entry, a corned beef chili, was paired with Guinness Black Lager.  The corned beef was quite a different and interesting take on chili and ended up winning the people's choice award.  For the most part it was similar to "regular chili", but the added flavor from the corned beef gave it a surprising twist. 
Strange Brew had two entries with a southwest chicken chili and a brew chili.  The southwest chicken was a very untraditional style.  The brew chili was definitely the better of the two, coming out dark hearty.  Hava Java had a "Jivin', Jumpin' Bean" vegetarian chili that contained 20 different beans.
Stooge's had one of the favorites of the afternoon with their Shemp's Revenge.  According to the chef they combined a load of their Shemp's Revenge wing sauce into the chili, giving it a delightful spice to compliment the large, tender chunks that adorned the samples. 
The West End Gastro Club had an eye-catching dish with their green chicken chili.  Shredded chicken and a medium, warming spice highlighted this dish that went on to take the judge's top prize.   It was damn tasty.  Next goal: get them a restaurant where they can serve this at.
Volpe's had two entries, one an atypical chili containing crab and the other a chicken chili.  Ringer's Roost rounded out the competition with a Dutch BBQ chili and a decent buffalo black bean chili.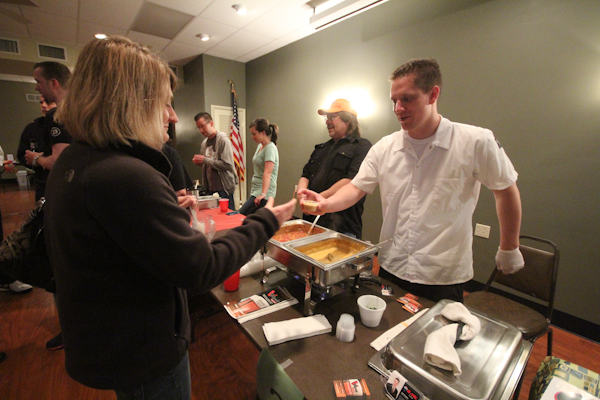 Volpe's dishing out chili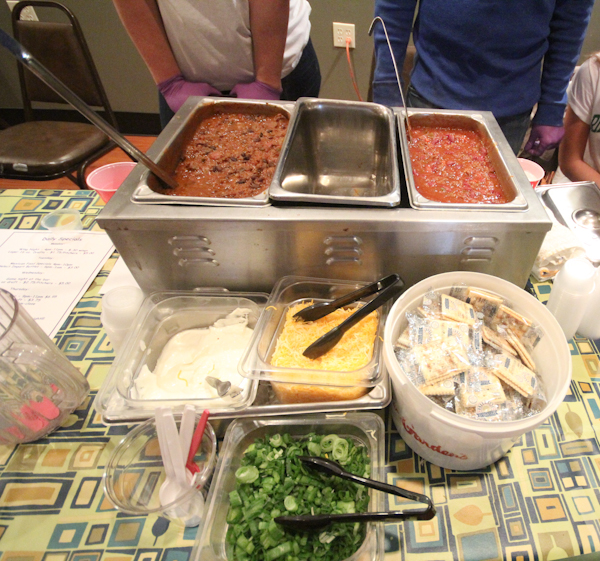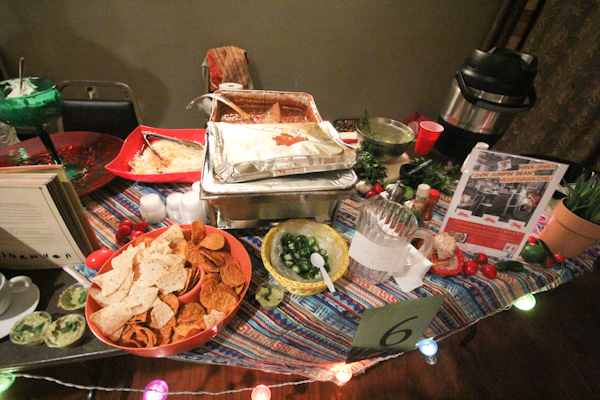 Hava Java, who won an award for "Most Colorful Table"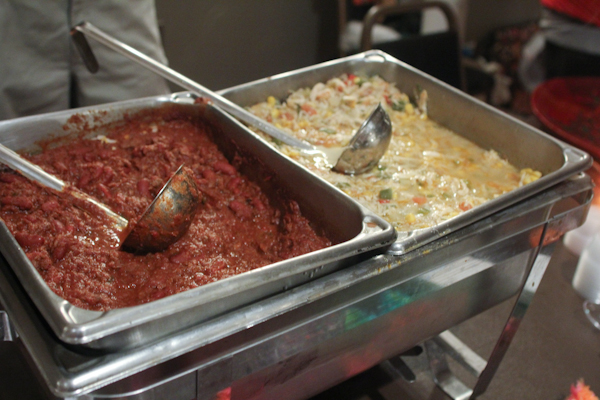 Strange Brew's Brew Chili and Southwest Chicken Chili