More follow-ups and a few new scoops on things going on in the restaurant world in the valley:
As reported last week, Plaza Bistro opened up on Broad Steet in Bethlehem on Monday.  We'll be stopping by soon to check it out and see what the spot is all about.
Tally Ho, the long-lasting bar that seemed to fall on some hard times is under new management.  Some time last year the bar completely did away with all of their craft beer, leaving those who drank endlessly to gain access to the mug club feeling more pissed than piss drunk.  The changes, we heard, include bringing back their craft beer (which was supposed to ship in on Monday) and switching up the menu to include items like panini.  Hopefully the place will clean up from what it's become.  The full menu and new beer list are set to debut on February 25th.
Hellertown has a new bakery coming in on Main Street.  The spot is taking on its third transformation in as many years.  First it was Infusion Cafe, coincidentally run by the new kitchen manager of Tally Ho, Jeff Clifton.  It then transformed into Trendz hair salon after Infusion's closing.  Now that Trendz is moving to a new spot, Warm Sugar is taking over and hopefully offering up all sorts of delicious treats.  They join Dolce Patisserie as one of the only other bake and pastry shops in town.  Karen's Sweets a few blocks down closed late last year.
We've also uncovered info that work on the Emeril's new spot at the Sands, Emeril's Italian Table, is well under way with construction ongoing.  We can only guess it will be opening around the same time as the hotel.
Lehigh Valley politico blogger Bernie O'Hare points out that Vegan Treats got the go-ahead from Hanover Township to close up shop in Bethlehem and open up a newer, larger bakery at 310 Stoke Park Road.  It's shocking they've stayed in their location so long considering how small it is and how huge of an entity they've become, baking for rock stars and celebrities as well as restaurants all over the place in NYC and Philly.
The yet unnammed (Thai Thai Thai III?) restaurant by owners of Thai Thai II in Bethlehem looks like it's coming along in Emmaus.  The restaurant is obviously behind schedule, as it was supposed to be open around Christmas, but it look as though they've got a spiffy new door and are finishing up on some bright yellow exterior work.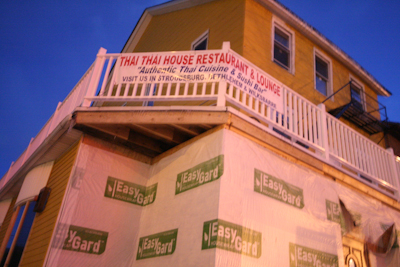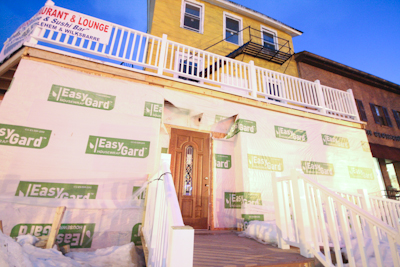 Keep checking back for updates and new info, as well as food reviews, news, and more.