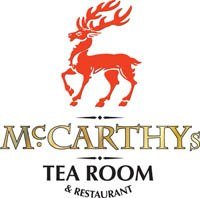 McCarthy's is introducing the latest step of its transformation tomorrow evening.  First the restaurant, attached to the popular Main Street store Donegal Square, dropped "Granny's" from its name.  Next up?  A liquor license.  The tea room applied for a license earlier this year and recently received full approval to forge ahead with transforming the quaint breakfast spot into an Irish pub. 
Tomorrow, Friday, and Saturday the restaurant will be serving up Strongbow, Magners, Guinness, Harp, and Smithwicks from a temporary bar.  Owner Neville Gardner has brought in Artefact, a Bethlehem-based architecture firm to oversee further changes, which will be begin in December according to the restaurant's Facebook page.  Artefact's work can be seen all over Bethlehem, with them being responsible for buildings at Union Station, the Main Street Commons on Northside, and Cleo's on Southside. 
We'll have photos of the first night as well as further information on the rebuild of McCarthy's later on.