Not sure when this one happened, but Flama Tropical opened up a second spot in Bethlehem at 102 E 4th Street, the former location of Kennedy Fried Chicken (which we never got to, unfortunately).
Knew about this a bit ago but forgot to report on it, but as Morning Call points out, El Toro Loco has opened at 1030 N West End Blvd on 309.  The spot used to be Montana West, then turned into Banderos Mexican Cantina and Grill for a few weeks.  It then shut down and reopened as Storm night club a week or so ago, and may now (hopefully) have its final identity as El Toro Loco.  Observations from their site: 33oz beers and 38oz margaritas for $5 during happy hour?  Holy christ.
Instanbul Grill II, which we reported on during Musikfest, looks like the interior is near finishing.  A stop by the other day showed crews working hard to finish it up.
The same looks to be the case for Bella's Ristorante on Main Street in Hellertown, right next to Cafe Erica.  Lots of work is being done in there and a faux weathered stucco/brick decor is going in at the moment.  Definitely check out Cafe Erica, hit it up last weekend and the amount/quality of pastries and baked goods there will melt your face.
The owners of Mama Nina's in Bethlehem have opened up a small pizza joint in Allentown called Little Sal's Pizzeria and Italian Kitchen.  Don't expect Mama Nina's-level meals, however.  They're doing burgers, pizzas, etc at this small, casual corner shop.  Sorry for the insane horrible photo.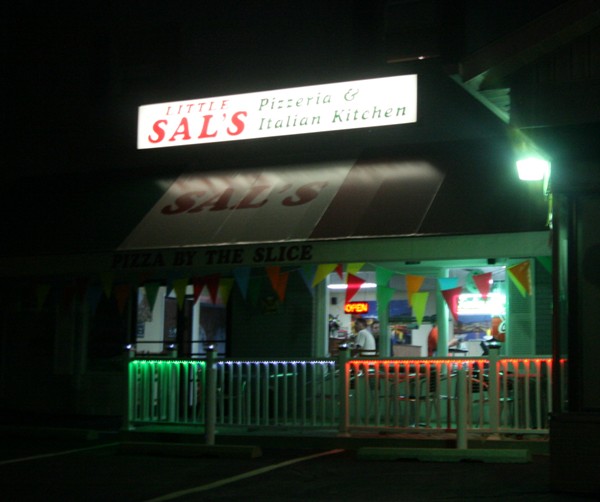 Don Juan Mex Grill which we just wrote about not too long ago, is opening their doors on the 24th at 10pm (wtf?) according to their Facebook.
There's a new beer distributor going in at 1838 Leithsville Rd in Hellertown.  There previously was the Oasis beverage distributor which closed suddenly last year.