With the rash of burrito shops that have opened across the Lehigh Valley, it's time to take on another.  Hello Burrito, which opened in late 2010, has been serving up various wraps, salads, and quesadillas on the north side of town.
Hello Burrito features a clean, modern interior.  Pale green shades, light wood, and glass accent the counter and eating areas very well.  The interior is nice, however seems a little too 'empty' for the size.  Since the photos below were taken they have added artwork to the walls which has brought the space together better.  The tables in the main dining area are pretty neat and feature homemade artwork on the tabletops.  A favorite place to sit is the alcove featuring a floor-to-ceiling glass window that lets you watch over Broad Street happenings.
Hello Burrito does have a fairly diverse selection of wraps, quesadillas, salads, and soups.  From Mediterranean and Asian influences to mozz/pesto/bruschetta and vegan wraps, there certainly isn't a lack of things to choose from here.  They make many of their own dressings and offer an apple or chips (if we're recalling correctly) with each meal.  Another staple of the establishment is the daily soups which are hearty and rich.  The burritos themselves are large and packed, certainly adequate for two meals.  One of the things missing from most burrito shops is just what Hello Burrito has: a gigantic assortment of hot sauces.  The only unfortunate setback for their food is that the burritos are simply mediocre.  Although stuffed with ingredients and with varying accouterments to liven them up, they fall short of other spots in the Lehigh Valley.  The rest of the food (soups, etc) is spot-on, however.  An added bonus for those soda lovers: they stock cane sugar sodas, like Boylan's, instead of the same run-of-the-mill Coca Cola or Pepsi products.
Another downfall of Hello Burrito was the uninterested and bored staff we encountered across multiple visits.  While there wasn't long waits, the staff came across as unfriendly and uncaring.  It seemed they were more concerned with ringing up, making, and delivering food extremely quickly (in an empty restaurant) so they could continue chatting with one another than employing a simple smile and a "Hello, how are you today?"
On the whole, if you're vegan, vegetarian, or looking for a quick grab when you're on the north side of Bethlehem, by all means drop into Hello Burrito.  Even then you might consider hitting some other cheap options in the area, but if it's a burrito or soup you're looking for, it's not the worst place in the world you could frequent.  However if you're on the hunt for a truly delicious burrito, we suggest you make the effort to visit Burrito Works (upcoming review) or Cali Burrito (the reigning king of Lehigh Valley burritos).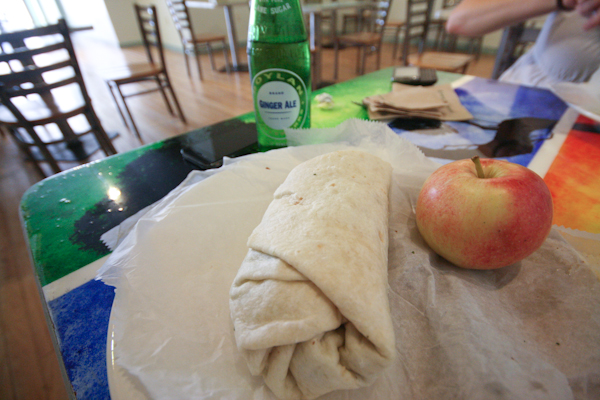 Final rating:



Hello Burrito
38 W Broad St
Bethlehem, PA 18018
610-882-2124
http://helloburrito.com/