Getting There
This is the worst part of Musikfest. If you're insane you'll try to park close to the festival. There's two off-site lots (at Martin Tower and 240 Emery St off of 412) that allow you to park and take a shuttle (for money, of course) to the festival. Trying to park on the street is next to impossible and will most likely result in a parking ticket (the fines for which are conveniently doubled for the week). You can also park over at the Sands lot or parking deck and head over to the Artsquest area or try your luck parking at an exorbitantly-priced private lot around the festival area.
Musikfest is divided into two sides, North and South. You'll either need to walk your drunk ass a good distance between the two or take the north/south shuttle bus (which is free with a shuttle ticket).
Drinking
Drinking is one of the biggest parts of Musikfest for many, so we've got you covered on how and where to do it. First step: Buy a mug. Sure, you can buy individual beers, but they're smaller and if you plan on doing any real drinking at Musikfest you'll want a mug. If you like bells and whistles, get the mug that blinks for ultimate drunken amusement.
The Musikfest tents generally have sucky beer. Many places also offer cheaper refills than the Musikfest tents. So, where to go? If you're intent on hitting up a Musikfest tent the best one to go to is Liederplatz. It always has the shortest lines, is located by Main Street, and allows you to get in and out quickly. Below are a list of other, non-Musikfest venues to stop for a big variety in beer selections or cheaper refills:
Southside:
Looper's: Loopers is inbetween North Side and South Side so if you're walking or getting off at a bus stop further away, this is a good stop. Not too far from the Artsquest venues and they'll be pouring some stuff that's a little better than the beer tent offerings.
JP Macgrady's: No longer a smoky, smelly shithole and they've got a great craft beer selection. Again, a little off the path between the north and south side, but certainly worth stopping for a refill.
The Bookstore Speakeasy: Get away from the madness for a cocktail or craft beer. Can't guarantee it's going to be completely relaxed (most likely will be a crowd and music) but it'll be a hell of a lot better than getting your beer knocked into every 3 seconds by a drunk teenager.
Steel Pub: They usually have some Victory stuff on draft and are offering $5 mug refills. This year they'll also have Saucony Creek outside every day pouring brews.
Levitt Pavilion and Musikfest Café – right on site at Artsquest, the Musikfest Café usually has a bigger variety of beer than the tents do, including ciders and local beers. The Mack café at the Levitt Pavilion also has craft beer options, with Victory on draft.
North Side:
The Brew Works – by far the best place to get beer during Musikfest. They have a wide variety of beers at decent prices. It gets busy during Musikfest, but no worse than the beer tents.
Wooden Match – The Wooden Match always has a great selection of craft brews on draft, and will have local brewery Weyerbacher's Last Chance IPA on draft all week.
Hotel Bethlehem: They serve generic beer and Guinness for mug refills, usually a dollar cheaper than the Musikfest tents.
Rosanna's: They're always doing cheap mug refills of the Miller/Coors variety at this Italian joint located a block away from the main action at Broad and New Streets.
Penn Pizza: Just down from Rosanna's on New Street is Penn Pizza who also does refills of Coors/Miller for a discounted price.
Joe's Tavern: One of the dirtiest dives in all of Bethlehem, if you're looking for cheap beer and weird/bad company, this is the place to stop in. If not, get your cheap beer and get the hell out of there. Gets mobbed during fest.
Ripper's: A similarly disgusting bar with lots of pretty motorcycles parked outside to look at, Rippers does cheap mug refills of swill-ish beer.
Eating
There's so much shit to eat at Musikfest it's almost a daunting task to decide what to have. Over the years we've spent an ungodly amount of money and time trying the best and the worst. Here's where and what you should shove down your gullet to soak up all that beer:
Aw Shucks: Easily the greatest corn-on-the-cob you'll ever have. They bathe it in butter, roll it in parmesan, and top it with some mild spice that makes it irresistible. This stuff is also easy to walk around with and eat at the same time. Grab it on the way to an act and be ready to sit and digest when you get there. Beware, it's addictive. Like crack. Located at Americaplatz, Handwerkplatz, and Plaza Tropical.
Bee's Knees – since the Cow & the Curd food truck is unfortunately not going to be at Musikfest this year, this is the next best thing. This stand does nothing but grilled cheese. Get a regular or one with bacon, or any of the other many varieties they're touting. This might win for the best drunk food this year. Located at Volksplatz.
Carolina BBQ – this is a new one, but hopefully their BBQ is better and more flavorful than some who have come and gone (and some who still remain) at Musikfest. Located at Liederplatz.
D&J Concessions – because you're a dirty person and you know you want deep fried Oreos. Located at Volksplatz, Plaza Tropical, and Handwerkplatz.
Grateful Spread – the name makes it sound like a stand run by a bunch of stoners, and the food almost undoubtedly confirms that. Cheesesteak egg rolls, crab fries, and grilled pork chops on a stick? Yes please. Located at Volksplatz.
Hogar Crea – these shish kebabs will make you shit rainbows and fill your stomach with a soothing warmth usually obtained only with 40 year old scotch. By far our favorite Fest food, they feature big, delicious beef chunks that are cooked over huge, smoky pits that you can smell a whole platz away. Intermittently interrupting the giant stick of meat are onions and peppers cooked over those same pits. Just a tiny bit of char on the edges mixes oh so well with the sweet, tender veggies. If you eat nothing else at Musikfest, eat these shish-kebabs. Located at Handwerkplatz by the Aw Shucks tent and the bell guy.
Take-A-Taco: Quite possibly the area's favorite festival food. They show up all over the place…Mayfair, MFest, Allentown Fair, etc. And their tacos are damn good. The taco bowls are great too. Just get anything and you'll be happy. Located on Main Street and at Festplatz.
Theo's Gyros: They're rocking three spots this year and always serve up some very tasty gyros with a delicious tzatziki sauce. Located at Kinderplatz and Main Street.
Other:
Fireworks – August 10th at 9:45pm. Self-explanatory.
Saurus – Musikfest has had a knack for getting interesting performers other than musicians in the past, including people like Australia's Strange Fruit, a sort of acrobatic theatre production performed on giant bending poles. This year will have Saurus, a group of street performers who wield huge, creepy looking dinosaur puppets who roam through the crowd. From the looks of their promo pictures, they'll be hard to miss. They'll be on Spring and Main Streets on the 8th, 9th, and 10th at 4pm, 6pm, and 8pm.
Personalized Coke Station – If you got screwed over by Coke's "Share a Coke" campaign and don't have your name on a bottle, while names like Amir, Cierra, and Dominique get their own, this is your chance. On August 3rd and 4th you'll be able to stop by the Share A Coke Experience in front of PBS at Steelstacks to personalize your own bottle.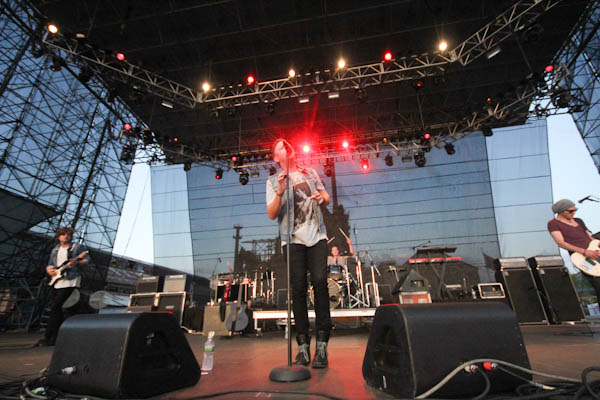 Music:
Last but not least. We'll be updating every day throughout the week with our picks for each day, as well as our usual reviews and recaps throughout the festival. See something cool? Post it on our Facebook page or share it with us on Twitter.