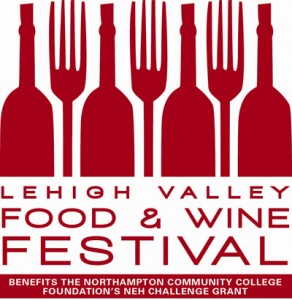 The Lehigh Valley Food and Wine Festival is coming up soon.  The festival is taking on a few changes this year that make it bigger and better than ever. 
Formerly held on one day in June, the festival this year is being held across two days on August 18th and 19th.  By far the biggest food festival in the Lehigh Valley, this year it will get even more extensive.  The festival was also held in a tent in the back of the Sands Casino.  This year, with the opening of the Sands Event Center, the space will be indoors and air conditioned.  The grand tasting will be held on both days, however Sunday will have many more vendors than the Saturday session will. 
There will also be specialty events this year which require additional tickets.  There will be a champagne tasting featuring Pierre Jouet and Mumm on Saturday from noon to 4pm and a Jim Beam tasting on Sunday from noon to 4pm.  Both of these sessions are $25 per ticket.  Star chef Emeril Lagasse will also be hosting a special cooking demonstration at the center on Saturday from 1pm to 2pm.  Tickets to this session are $50.
Tickets to the grand tasting are $75 per person and benefits proceeds benefit the Northampton Community College Foundation/NEH Challenge Grant. Restaurants participating in the event and their days of participation:
Burgers and More by Emeril (Sa/Su)
Blue (Su)
The Carnegie Deli (Sa/Su)
Cosmopolitan (Sa/Su)
Edge (Su)
Elegant Desserts (Sa)
Emeril's Chop House (Sa/Su)
Emeril's Italian Table (Sa/Su)
Glasbern
Hampton Winds (Sa/Su)
Kome (Sa/Su)
Lee Gribben's on Main (Sa/Su)
Melt (Su)
Rodale Catering and Events (Sa/Su)
Sette Luna (Sa/Su)
Shula's Steak House (Sa/Su)
St. James Gate (Sa/Su)
Tapas on Main (Su)
Villa Enterprise (Sa/Su)
Vision Bar at Sands Event Center (Sa/Su)
Vintage Restaurant and Bar (Sa/Su)
Warm Sugar Cupcakery (Sa/Su)