Today The El Vee got a chance to take a peek at Emeril Lagasse's new restaurant, Emeril's Italian Table, at the Sands Casino in Bethlehem before it opens to the public on Saturday, June 4th.  The casino already hosts two of Emeril's other restaurants, Burgers and More and Emeril's Chophouse, making this his third at the resort.  It is his first Italian concept, something he claims to have been interested in implementing for over 20 years.  Chef Lagasse commented, "Simplicity is what speaks for Italian for me.  It's all about ingredients and about simplicity."
Playing on that theme, the simple and smart interior of the restaurant evokes a warm, upscale bistro feel with a brick and Tuscan style.  The restaurant contains several different areas, all with their own unique qualities.  Upon entering the restaurant you are greeted with the bar area, outlined by outward-facing seats looking into the casino.  Further down you pass the pizza station where chefs prepare pies cooked in the open wood oven.  Moving on down you meet the charcuterie station where various cuts of salumi and cheese are sliced on a giant slicer.  The cool thing about these stations is there's only large glass panes separating you from the chefs so you can feel free to stand and watch the prep.  Moving on down is a narrow Italian bistro-feeling area with a few tables along the wall and booths opposite and then you enter the main dining room which proved to be surprisingly large.
The one thing that all of these areas has in common are that they are all done by interior design firm Floss Barber out of Philadelphia who have worked on such projects as the Sugarhouse Casino and the other Emeril's restaurants at the Sands.  With the help of a firm named Artisan an old barn in the Lehigh Valley was purchased, deconstructed, and the wood was remilled and used to construct and accent the new restaurant.  Enough about the atmosphere, let's get down to the food.
The day started out with samplers of the charcuterie and after watching it all being sliced up it sure did satisfy.  Beautiful platters of speck, spicy nduja, prosciutto, and other cuts lined the outside of the slicing station.  All were phenomenal and I think will be a big hit in the restaurant.  As a snack or even a before-dinner app the meat and cheese plates will surely satisfy.  At this point pizzas were also being passed around.  These are small, personal-sized pizzas that run $11-$13 each and are cooked in the gorgeous wood-burning oven.  After sampling the Funghi (roasted local mushrooms, potato, truffle oil, herbs), Marghertia (tomato, basil, mozzarella), and clam (clams, garlic, rapini, ricotta), I do have to say the margherita was the best.  Rich cheese, slight char from the fire, great crust that seemed to have a sea salt flavor, and soft, cooked tomatoes made it stand out.
Now it was time for the meal, a three course affair for all of the media personnel present.  It started off with a Italian Chopped Salad, consisting of iceberg, chopped salami, chickpeas, olives and peppers.  As Lagasse had mentioned, simplicity was really key here.  The ingredients were obviously very fresh and really shone through, complimented by olive oil and ground pepper.  And the salami calabrese – oy.  Such a strong, savory flavor in this it was hard not to wish for a whole lot of this, but the salad was balanced well.
Coming in for the entree was homemade meatballs surrounded by ricotta and polenta.  Three of them were centered on the plate, large and dense.  Digging in they had a bit of spice to them, which chef de cuisine Tony Page attributed to chili flakes.  I also observed some pleasant fennel added into the meatballs.  Chef Lagasse noted that they toyed with the recipe for the meatballs alone for three months until they perfected the dish.  And to finish off was a dark chocolate hazelnut torte with espresso anglaise which ended up being the highlight of the day.  A beautiful, soft chocolate cake with a crushed hazelnut bottom was paired with a light but flavorful espresso cream sauce that brought thoughts of Ferrero Rocher candy, only many times richer and more decadent.  Towards the end it got extremely rich and overwhelming, however this was definitely a winner.
Just flipping over the menu and based on what was served it's obvious this is going to be a winner of a restaurant, quite possibly more-so than the others in the casino.  I have been to five different Emeril's restaurants now and this is a close second behind Tchoup Chop in Orlando and may eventually take over the top spot.  I'm glad to see a lot of meat cuts coming to the valley, with Italian Table's charcuterie station, Chef Jason Hook using items like jowl when he was at Glasbern, and Tapas on Main with their Spanish-inspired meat and cheese plates.  The bar looked well stocked with lots of Italian bitter components and lots of vermouth.  Many a Negroni will be imbibed here while washing down some great Parma for sure.  The wine list, if anything like Chophouse, will no doubt be spectacular and host a wide variety of everything from nebbiolo, sangiovese, and bombastic super tuscans.  Their house wine is created by Jim Clendenen of Au Bon Climat in California and will feature some Italian-clone grapes to round out their menu.
This restaurant seems well-done.  Some of the servers seemed very green, however the veteran staff that transfered over from their other restaurants were refined and had great attention to detail.  Any missteps will be worked out within a few months I would wager.  Even though connected to the new Sands Hotel this venture doesn't scream "hotel food".  The food is authentic, the ingredients fresh and high-end, and the decor isn't kitschy but rather upscale and welcoming.  Emeril's Italian Table, on it's media day, seems to be a wonderful addition to the culinary landscape in the Lehigh Valley and a welcome one here at The El Vee.  Someone asked Emeril if he planned on expanding out of the casino and into the rest of the valley.  He digressed, obviously putting any sort of that chatter to rest, however he noted, "I'm perfectly happy right here in the Lehigh Valley.  We're agriculturally rich in this area.  The people are pretty damn nice."  Amen, brother.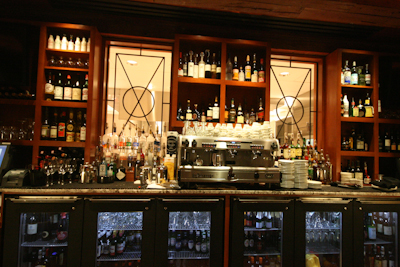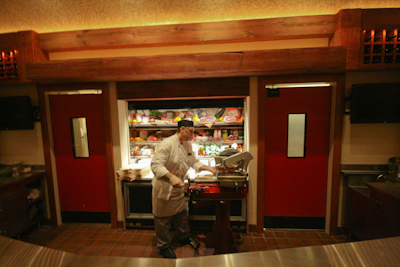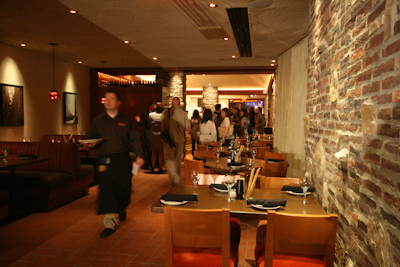 Emeril's Italian Table – opens Saturday, June 4th
77 Sands Boulevard
Bethlehem, PA 18015
484-777-7777
Disclosure:  This meal was provided free of charge by Emeril's and the Sands for members of the media.