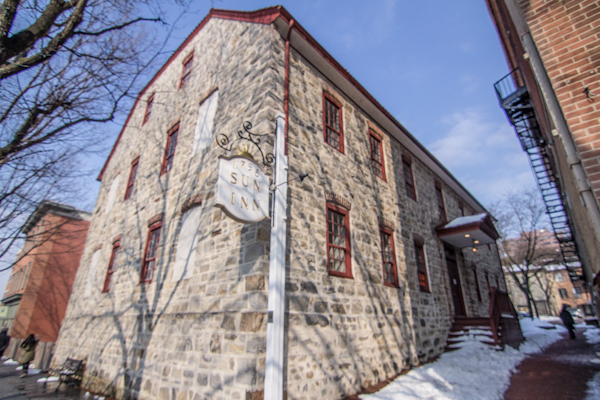 A representative from Christmas City Spirits has confirmed their plans to open a distillery and tasting room in the historic Sun Inn building in downtown Bethlehem.  
The Inn, which also has also operated as a restaurant in recent years (they are currently looking for a new chef to fill the hole that Chef Michael Adams left when he joined the Hotel Bethlehem, was built in 1758 and served as an inn until the 1960s.  
The distillery aspect of the Sun Inn will be called Christmas City Spirits and will initially offer a line of Eau de Vies, a type of clear, fruited brandy, made with local fruit.  Later on they will begin producing aged brandies and other spirits.  "The company focus will be on producing quality handcrafted spirits, distilled form locally sourced ingredients," says Christmas City's Brett R. Biggs.  
Mr. Biggs said they believe that their "plan for small batch production from local seasonal products will complement the Inn's Colonial roots and early mission," noting that the building was originally licensed as a "house of entertainment" by King George III.  While the distillery is still in the early planning phase, they are currently looking for equipment, suppliers, and designing the distillery and tasting room.
Christmas City Spirits joins six other distilleries currently in planning or recently opened in the Lehigh Valley.  They include Blackplate Distilling on Bethlehem's SouthSide, Gallows Hill who are hoping to open in Allentown, Eight Oaks Craft Distillers who are working to open this summer in New Tripoli, Social Still who opened late in 2014 on Bethlehem's SouthSide, and County Seat Spirits who recently opened in Allentown.
We'll keep you updated with more information about Christmas City Spirits as we get it.
This article has been updated to reflect that the Sun Inn has no ownership in Christmas City Spirits and Mr. Biggs is not a representative of the Sun Inn.