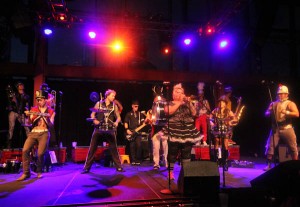 Artsquest announced this week that March Fourth Marching Band, The FIXX, and Dave Davis will be performing at the venue later this year. 
March Fourth, a Musikfest Café and Musikfest regular, is a favorite of ours.  Their shows pack in an absurd amount of energy and rank among the most energetic shows we've ever seen.  If you haven't seen them yet you're doing yourself a disservice.  They come back to the LV on October 9th.  Tickets are $17 to $27.
New wave band The Fixx, who released their 10th studio album in 2012, will be hitting the Musikfest Café on July 30th.  The show will be special in that it's a request show, allowing audience members to request hits and deep cuts from the band's extensive catalog.  Tickets for the show are $25 to $35.
On November 22nd former Kinks guitarist/vocalist  Dave Davies will hit the Musikfest Café for a solo show.  An inductee of the Rock n Roll Hall of Fame, Davies has put out six solo albums in addition to his work with The Kinks.  Tickets for the show are $35 to $45.