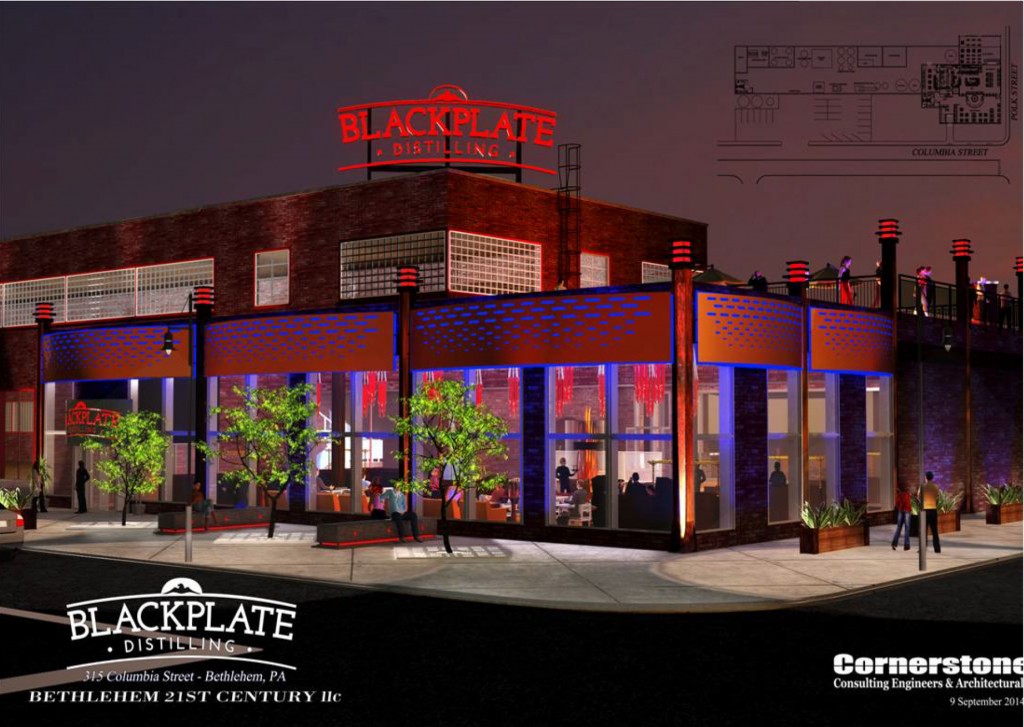 Blackplate Distilling, who yesterday sought approval as a potential CRIZ project to open a distillery in South Bethlehem, are aiming for an early 2016 opening according to Stacie Lampe, a partner in the business. 
Located at 315 Columbia Street, the building they will be rehabilitating currently houses Pennsylvania Metallurgical, who are scheduled to vacate the 30,000 square foot property by June 2015.  The distillery is hoping to build a 10,000 gallon capacity distillery to start and expand to producing 100,000 gallons in the future, the maximum allowed under their limited distillery license.  While the partners have been in talks with distillers, none have committed to the project yet as they are still navigating the CRIZ process.  They plan on creating a line of vodka, gin, rum, and whiskey.  The distillery will also house a 200 seat restaurant, and although Lampe said they've been in talks with several restaurateurs, they haven't settled on a specific one or style of food.
Stacie, and her husband Josh Lampe both work with StandingStone Media/SSMCreative, a web design and marketing agency that has done extensive work for local brewery Weyerbacher, where relatives Barbara Lampe and Chris Lampe serve as the Vice President and Production Manager, respectively.  Ms. Lampe noted that although StandingStone has overseen the rebranding of Weyerbacher and the family ties, Weyerbacher is not involved in the new distillery.
Blackplate is the third announced distillery for the Lehigh Valley, after County Seat Spirits and Social Still, and is one of five in planning for the area.  You can check out their website here and follow their Facebook page for more updates.  We'll keep you updated throughout the opening of this and the other distilleries throughout the Lehigh Valley as more information becomes available.