The new Terra Cafe, which replaced the hippie-centric Wildflower Cafe, has opened up in Bethlehem at 316 S New Street.  They'll be having live music and open mics, similar to how Wildflower was run.  On a quick pass by it already looks much nicer inside.
Announced by The Morning Call last week, the Brew Works will be opening CoffeeWorks and BurritoWorks next to their Allentown Brew Works location.  Burrito Works joins Cali Burrito, Hello Burrito, and Burrito Grille in the LV burrito scene.  CoffeeWorks and BurritoWorks open up today with an official opening ceremony with the mayor tomorrow.  Some shots of the interior:
Mangia in Easton (190 S Greenwood Ave) has officially transformed into Moscato's Trattoria.  The signage has changed and they're open for business.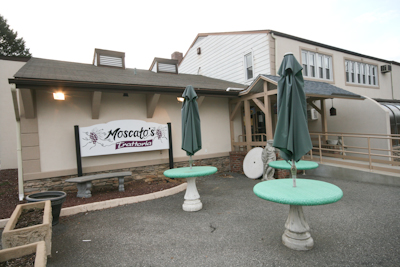 Phat Joe's is a sub shop set to open soon at 77 N 4th Street in Easton.  It looks like a lot of good things are going on here.  Fries with various spices (old bay, cayenne cheese, bbq spice, or lemon pepper), various different hot wing recipes, hot/cold subs, wraps, and sandwiches.  Also looks like they'll have their own little contest to eat 3 subs in 12 minutes to get a t-shirt and your name on the "Wall of Phatness".  That sounds like a bad idea.  Stick to a sandwich and some fries please.  The place is headed by Joseph "Phat Joe" Stout and will open April 1st.
Warm Sugar, the new gourmet cupcake shop on Main Street in Hellertown, is seeing more and more progress by the day.  Accented by bright pink decor, it will open some time this month.  Hopefully it can find the success that Karen's Sweets, located a few blocks down, didn't when it closed last year.
Just a quick shot of The Paddock in Allentown (1945 W Columbia Street), which we wrote about in the last update.  The Paddock seems poised for takeover by the team that bought up The Fogelsville Hotel and turned it into a veritable craft beer bar, with 16 different taps running.  Hopefully we'll be able to say the same about The Paddock.  The potential new owners couldn't give away many details but say they're in ongoing negotiations regarding the property.  Below is an exterior shot and a pic of their LCB app.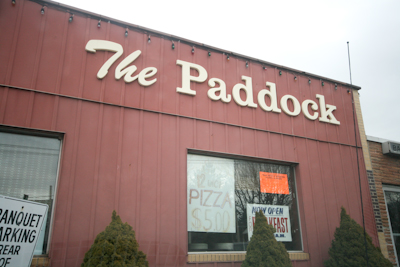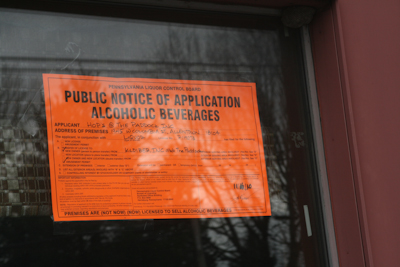 The V Bar at Tally Ho (205 W 4th Street, Bethlehem) is now in full swing.  After being bought up, Bethlehem's college mainstay has returned craft beer to their establishment.  The place used to be rife with the stuff when inexplicably they got rid of all forms of decent beer.  Now that they're under new owners they're toting a lot of Victory brew in bottles and on tap, as well as Flying Fish, Troegs (Nugget Nectar!), and Weyerbacher.  Sometimes change is a good thing.