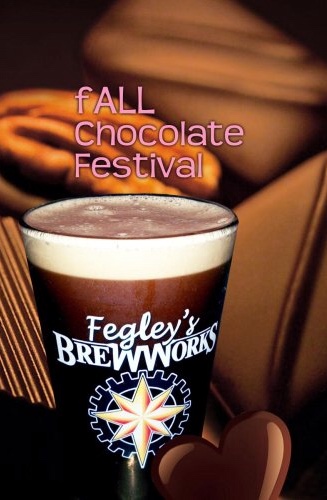 Today we have a very late and quick recap of last month's Whiskey Festival held at the Allentown Brew Works just in time to give you the details on their Chocolate Festival coming up this weekend.
It had been quite some time since we last visited the Brew Works for one of their non-beer-centric festivals, so we figured it was time to revisit the Whiskey Fest.  Let's just say this right off the bat: the festival has more whiskey, and better brands, than I recall from the past. 
While yes, there was some spiced and flavored nonsense (like Fireball, Bird Dog Blackberry, etc) that has no place at a whiskey festival, the offerings by and large were great.  Regular offerings from bigger guys like Glenfiddich, Tullamore Dew, and Balvenie never fail to disappoint, but getting to taste the likes of the new Highland Park Dark Origins (astoundingly good) and Bastille French Whiskey (very unique) were treats.  Even The Irishman whiskey, which you don't really hear much about outside of the whiskey circles, was there with a full line-up of offerings that were all very solid. 
In addition to the straight liquor line-up, there were also a variety of whiskey barrel-aged beers on hand.  One such beer was Lehighton-based Red Castle Brewery's Dark Dungeon, a bourbon barrel coffee stout that tasted like liquid ass.  An infected, slightly sour, and ashy mess, I've had this beer twice now and it's not getting any better.  Luckily, there were better beers available.  Anderson Valley's Wild Turkey Bourbon Stout was just OK and Weyerbacher's Insanity is always a crowd pleaser. 
The two most exciting offerings on-hand were from The Brew Works themselves: a bourbon barrel aged version of Delusional, a 17% imperial coffee stout, and a bourbon barrel aged version of their 16th anniversary wheatwine.  The Delusional probably could've used more time in the barrel, as it seemed a bit hot and unbalanced.  After having the regular, un-aged version, I can say that at this point the barrel detracts from the beer.  With more time in the barrels it would probably develop into something much nicer.  It's thick and viscous with a lot of dark fruit and vanilla notes.  A huge beer, and quite a treat to bring out for the festival.  The beer that stole the show, though, was the Bourbon Barrel Sixteen.  Endlessly complex, with notes of marshmallow, vanilla, brown sugar, and roasted coffee, it was one of the best things I've ever had from Brew Works.  Hopefully this makes it to bottles at some point because this deserves a bigger audience than just the whiskey festival crowd.
Lucky for everyone, it's festival season at The Brew Works.  That means that in addition to the Whiskey Festival last month, you've got the fAll CHOCOLATE Festival coming up this weekend and the Craft Beer Festival coming up in December. 
The chocolate festival kicks off this Saturday at 4pm and runs til 7pm.  Tickets for the event are $25 in advance or $30 at the door and include unlimited samples.  In addition to a ton of chocolate vendors (you can see the full list here), there will be a variety of chocolate liquors as well as a cocoa nib-infused sarsaparilla mead from Colony Meadery, and a Chocolate Lager and Chocolate Peanut Butter Porter from The Brew Works.  You can snag tickets for the event here.