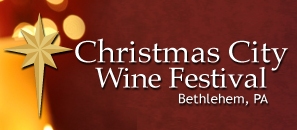 A new(ish) wine event, the Christmas City Wine Festival, is being hosted at The Sun Inn  courtyard in Bethlehem on Saturday, May 19th.  And it's a damn good deal.  For $10 in advance (on sale at the Franklin Hill Wine Store at the Main Street Commons in Bethlehem) you get a lot of wine and a lot of food across six hours (1pm-7pm).  Tickets are $15 at the door and $5 for designated drivers.
The festival will feature five Pennsylvania wineries and one meadery.  The participants: Adello Winery, Antler Ridge Winery, Cherry Valley Vineyards, Blue Mountain Vineyards, Stonekeep Meadery, and Sand Castle Winery.  And no, we're not sure why Franklin Hill is selling tickets for this but not participating in the event.
Four Lehigh Valley restaurants will be providing the food and cooking demos throughout the day.  Molto Pazzo from Bethlehem will be cooking Italian cuisine from 2:30-3:00, Molly's Irish Grille from Bethlehem will be cooking Irish cuisine from 3:30-4:00, Paprika's from Hellertown will be demonstrating Hungarian cuisine from 4:30-5:00, and Yianni's Taverna from Bethlehem will be making Greek food from 5:30-6:00. 
Other food vendors (Island Expressions and Heaven on a Bun) will be present.  Bands Butterjive, Bill Murnin, and Jim Keeler will provide entertainment throughout the day.
This is being put on be the Star of Bethlehem Festival, who hosted the Riverside Wine Festival the past two years.  The first year was a giant barrel of suck, as we wrote about here.  This year the location is better, the price is cheaper, and they seem to have a better handle on what food (well, not including the vendors) to have at something like this.  Hopefully it's a success and makes up for how crappy the 2010 iteration was.