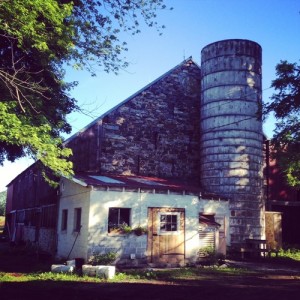 Stefanie Angstadt, the cheesemaker from Valley Milkhouse cheeses in Oley is hosting cheesemaking classes at their creamery at Covered Bridge Farm.  Valley Milkhouse's cheeses are some of the best around and produced locally and sold through a store at their creamery and at local farmer's markets.  A former cheesemaker at Avalanche Cheese Company in Colorado, she returned to her home area and began to make cheese at the Covered Bridge Farm in 2013.  
The classes are $60 and are taking place January 18th, February 8th, and March 15th and run from 9am to 1pm.  Spots can be reserved here.
Photo of the Covered Bridge Farm from Valley Milkhouse's website.