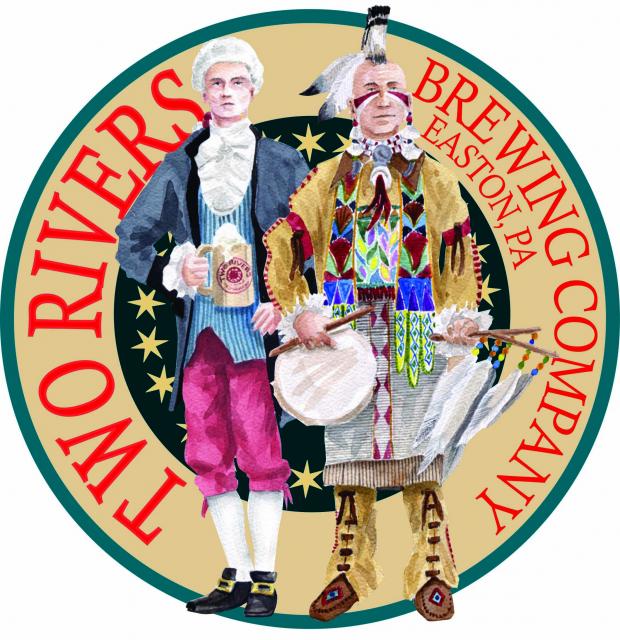 It was at the annual Belgium Comes to Cooperstown beer festival at Ommegang Brewery in Cooperstown, NY that four friends were musing about opening a brewery.  But that might've been the beer talking.  After popping into countless brewpubs over the 20 years they've known each other it seemed like a great idea while they discussed it over pints at the bed and breakfast they were staying at.  It wasn't until years later that the idea turned from a pipedream to a beautiful three story brewpub set to open in less than a month.
Troy and Kathy Reynard, along with Brad and Judy Nelson, are those four friends that will be opening Two Rivers Brewing Company in Easton.  We met up with them, as well as assistant brewer Jim Murray, a few days ago to get an in-depth look at what they're planning for the company, their future goals, and, of course, the beer.
Troy runs the Cosmic Cup, a popular Easton coffee joint.  Thinking of expanding, Troy and Kathy were scouting around Allentown for potential locations and ideas.  They kept striking out, whether it be with locations or with the city itself.  It was while at Doc Holiday's in Manhattan on a Lower East Side dive bar tour that Kathy said, "Fuck it, let's start a brewpub."  And thus, Two Rivers was born.
The group looked around for locations for a while before being tipped off that the old Mount Vernon Alehouse was going up for sheriff's sale just a short time later.  Scrambling to get their plans in order, the sale ended up being pushed back, allowing them a little leeway to get their ducks in a row. 
With the way sheriff's sales work they weren't allowed a walkthrough of the building before purchasing.  The space ended up requiring more renovation than the founders had planned.  "It's a double-edged sword, falling in love with an old building," one noted.  Because the building originally had another next to it, the structure as now listing to one side.  A team of architects, historical preservationists, and others were contracted to build an entirely new skeleton inside to preserve and reinforce the building.  Each floor will be divided in essentially three sections.  The front of the first floor will have a dining area and bar in the front of the building.  A staircase, elevator, and bathrooms will be in the middle, with a storage area in the back.  On the second floor the layout will be much of the same, with a dining area in the front, staircase/bathrooms/elevator in the middle, and their brewhouse in the rear.  The third floor, which will go unoccupied by patrons for now, will house their brite tanks and grain milling operations.  Troy said it has been a "great honor to restore that building," calling it an "architectural landmark."
About that brewhouse: they'll be utilizing a 7bbl system, which is capable of outputting around 215 gallons per batch.  And who will be brewing on that system?  Wayne Milford, from the 12th biggest, and one of the most famous, craft breweries in the US: Dogfish Head.  Certainly lending the new brewery instant credibility with his resume, Milford will be relocating to join the Two Rivers team as their head brewer.  Reynard says he is, "confident the beer will be great."  Assistant brewery Jim Murray said he is excited to work with and learn from Milford at Two Rivers.
The brew system will include seven fermenters and ten serving tanks.  Of those ten lines, the pub plans to run three flagship beers.  The idea is to do lots of experimenting and pour constantly varying beers on the other taps.  The team is interested in doing casks, aging beer in spirits barrels, and doing sour ales.  To give you an idea of the variation, at the recent PBS Brewfest they were pouring a Gallows Hill Saison and a peach wheat infused with bourbon-soaked oak chips named Bourbon Blossom (a favorite of ours).
Speaking of Gallows Hill, many of the beer names are history lessons.  Pine Street Blonde is named after the prostitutes who reportedly hawked their services on Pine Street nearly 100 years ago, as well as Gallows Hill, Getter's Island, and the brewpub's name itself referencing geographical locations in Easton.  The Banker's Brown has an interesting, modern story behind it.  It is named after Jim Sampson, who aided Two Rivers in securing financing for their brewery.  Mr. Reynard asked Sampson, a craft beer fan, what his favorite style was.  Sampson responded that it was brown ale, and Reynard promised him, "you help us get a loan and we'll brew a beer in your honor."  If you get a chance to see the artwork for the Banker's Brown Ale you'll see Sampson depicted in the scene.
Heritage beers are something else Two Rivers wants to explore.  Taking recipes from defunct breweries Easton breweries like Bushkill, Seitz, and Kuebler, they hope to recreate some of the beers from years past.  Another idea that was discussed was doing a steam beer named after Alfred Thomas, a steamboat that exploded on the Delaware River near Easton in 1860.  While sipping on a Rochefort 8, Mr. Reynard said, "We want to change the way Easton looks at beer."
Not into beer?  (What the hell is wrong with you?)  Well they've got you covered there as well.  The bar will serve prohibition-era cocktails that fit will fit in nicely with the theme and notion of such an old building.  And they won't be skimping on the food menu, either.  They've enlisted the services of Chef Jeremy Bialker to head up their kitchen.  Bialker worked at Porter's in Easton in the late 90s to early 00s, then at Vintage in Easton, and most recently had a stint at Bravo in Whitehall for two years.  'Gourmet comfort food' is what the pub will be serving.  Mussels & frites, charcuterie platters, and poutine will all adorn the menu.  Some of the most interesting items mentioned were a duck reuben, a bacon plate, featuring a variety of 'craft bacon', and a peanut butter bacon cheeseburger. 
There will also be Cajun influence in the menu as well.  The beautiful outdoor dining balcony overlooking the street reminded the owners of Bourbon Street, and so items like shrimp & grits and oyster po'boys will grace the menu.  The items on their menus will change frequently, adhering to what's fresh and available during the seasons.  Dedicated to the farm-to-table concept, the brewpub has begun forging relationships with local farmers and vendors to provide local food.  Mr. Nelson also noted that they're experimenting with using their spent grain from the brewing process to make items like pretzels, which they'll pair with a beer and cheese dish.
The huge response from the Easton community during preview days that Two Rivers has been hosting has validated that the "community wants this place to be open," said the owners.   The team noted that even Fegley's Brew Works, another Lehigh Valley brewery, has chipped in immensely to help with the project, providing information and assistance in setting up business plans and beer equipment alike.  When Weyerbacher closed their brewpub years ago to focus on expanding capacity and their distribution network across the nation Easton was left with a hole in their beer scene.  Mr. Reynard asserted that Easton has become a dining destination and that Two Rivers is just another piece to complete that dynamic. 
Two Rivers started a Founder's Club, where sponsors can pay $1,000 and be paid back later in $1,250 in beer and receive other perks and merchandise for their membership.  Fifteen people have so far joined the club, and owners expect that as the restaurant opens more people will join.  The club membership will be closed when the first beers come on tap.  And when will that be?
The brewpub is slated to open August 11th with a jazz act performing, and the beer brewed on site will be flowing in the months to follow (around October/November).  But even before opening, the owners are already thinking about the future.  With their current capacity the pub is expected to be able to keg some of the beer and distribute it to bars around the Easton area.  In the future they hope to expand and bottle their beer.  And during dinner there was some drinking and musing about putting in a distillery on the third floor, but that was just a few friends throwing ideas around over a couple pints.