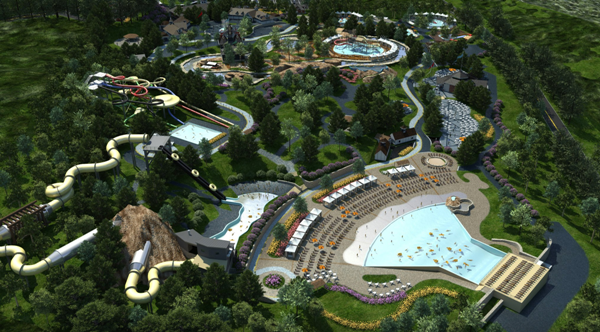 A big new waterpark is coming to Blue Mountain Ski Area just north of the Lehigh Valley and is scheduled to open in May 2015.
The Summit Splash waterpark was originally scheduled to open in 2013, however plans have obviously been delayed.  The park will span 60 acres and include a wave pool, family waterslide, speed slides, a Lazy River, and a children's area. 
According to a 2011 report by the Pocono Record the park will have a "History of Carbon County" theme, with many of the attractions names after local rivers and coal industry landmarks.  Serfass Construction out of Allentown recently announced that they were awarded the contract to construct the waterpark and posted the above rendering to their Facebook page.
The waterpark, along with other recent additions like disc golfing and summer concert events, will put the resort in direct competition with Camelback Mountain Resort in Tannersville, PA, which opened its Camelbeach waterpark in 1998 to bring in a summer crowd and in 2010 added CBK Mountain Adventures, a set of attractions including a mountain coaster, ziplines, ropes courses, and mountain Segway tours.