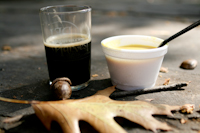 In case you hadn't heard, summer is officially over.  That means cooler temparatures are closing in fast, the pumpkin beers are starting to roll in, the sweaters are calling your name, and the harvest festivals start springing up everywhere.  So here's something we've been meaning to do for the past two years on this site: a little guide of what to drink, eat, and do around the valley during the fall.
Eat:
Some of the best fall foods come from only a few different fruits: Pumpkins, pears, and apples.  Search out or cook a great pumpkin pie.  Do the same for an apple one.  The local farmer's markets usually have both of these around late September/early October as well.
Warm Sugar is doing things like caramel pecan pies and caramel apple cupcakes.  I'd keep tuned to their newsletter for more fall deliciousness.
It's football season, like it or not.  That means one thing: wings.  Some of the finest establishments around for getting a beer, watching the game, and downing some wings are as follows: P.J. Whelihan's, Roosevelt's 21st, and Starter's.  Three places we haven't tried, but are options? Buffalo Wild Wings, Big Woody's, and Wing Zone (no TVs, but if you're close enough they home deliver).
Drink:
This here is a big category.  There's lots of flavor profiles that go with the fall, and here are some of the best and most accessible in the valley.
Beer:
Schlenkerla – this brewery makes beer with malts that are smoked over fire.  Intensely smokey, it's like you popped open your beer and left it next to a camp fire all night.  Available at Abe's.
The Bruery Autumn Maple – brewed with lots and lots of yams, but dominantly featuring cinnamon, nutmeg, vanilla, and sugar, this is a great one for a cool, late September evening.  A bit hard to come by, but we've seen it pop up on tap here and there around the valley.
Southern Tier Pumking – the most pumpkin-y of beers.  Super sweet.  Think: pumpkin pie in a bottle.
Dogfish Head Punkin – a great brown ale with your typical nutmeg, allspice, and cinnamon flavors.  Goes best with launching pumpkins with air cannons.
Weyerbacher Imperial Pumpkin and Brew Works Devious – two great imperial pumpkin ales, locally brewed.  Weyerbacher may have the edge here, but they're both fine in their own right so grab some of each and do a comparison.
Sierra Nevada Tumbler – a good fallback, this straightforward brown will be around all season and makes for an affordable, easy-going daily drink.
Sam Adams Harvest Collection – This year they've got Bonfire, a rauchbier similar to the Schlenkerla mentioned above, but not as in-your-face.  They've also got the regulars: pumpkin ale, Boston Lager, Octoberfest, Black Lager, and Irish Red.  This is a great mix of seasonal beers that, again, ir an affordable everyday set of drinks.
Other Alcohol:
Hard Cider – Frecon Farms out in Boyerstown has three different, locally brewed hard ciders for you to get your apple fix.
Bourbon – What better way to warm up than with America's drink?  Take it neat, on the rocks, or mixed in a cocktail.  Try out Maker's 46, Buffalo Trace, Elmer T Lee, or Woodford Reserve.  Looking for a good cocktail?  Hit up the Bookstore Speakeasy and just ask the bartender for a bourbon drink.  You won't be disappointed.
Non-Alcoholic:
Lansang Souchong Tea – When we think of fall we think of sitting around a fire with good friends.  This black tea will remind you of just that.  Smoekd over pine needles in a traditional Chinese preparation, this smoky, pungent tea will make you want to skip work and head to the mountains.  Christine's Secret Tea Garden is a great, local place to order this from.
Pumpkin Coffee – Whether it's the annual favorite pumpkin spice latte from Starbucks or some pumpkin coffee from Dunkin Donuts, a spice-laden coffee is a great way to start your morning.
Chai – Another great spiced drink to relax with after work.  Sit down and read a book, magazine, or whatever at a local cafe with a warm cup of chai on a chilly evening.
What to Do:
Harvest Festival – Bethlehem, the City of All Festivals, is hosting the annual Harvest Festival on October 8th.  There's pies, farmer's markets, wine, hearty soups, TONS of home brewed beer, vendors, and other stuff going on.  It doesn't feel like fall until Harvest Fest takes place.
Corn Maze – Grim's is a great place to get your fall activities on.  They have pumpkin picking, apples, and a huge, awesome corn maze.  Certain nights they also do the maze at night, by flashlight.  Even better.
Pumpkin Carving – If you're one of those people that just gets a pumpkin and throws it on their front porch, or worse, doesn't get one at all…well…stop that.  Pick up a knife, some stencils, and get to making some art (even if it's crappy looking).
Pick your own – As alluded to a few times here, start picking some of your own stuff.  Fall is a great time to get festive.  You can go grab apples, pears, and pumpkins right from the field at Strawberry Acres, pumpkins from the farm at Grim's, or go foraging for fall ingredients.  Whatever you do, get it fresh and make some damn good meals with it.
Artsquest's Oktoberfest – new this year, and they've got quite the line-up.  From barrel rolling and beer stein races to dog races and a truck pull, this has a little bit for everybody.  Throw in some brews (Yuengling Oktoberfest, Hofbrau, Saranac Pumpkin) and y ou've got yourself a good time.  It all starts this Thursday (29th) and rolls through the weekend, taking a break, and then picking back up for Oct 6-9th.
Haunts – Although I haven't been to Dorney's revamped Halloween project or the new 13th Street Fear Factory in Easton, but sound like good, local options to get your scare on.  Check out Easton Haunts and Dorney's site for more info.
West End Oktoberfest is also a nice little celebration, with Brew Works and German beer on tap, free music, and lots of vendors.  For an idea of what it's like, check out our write-up on last year's event here.