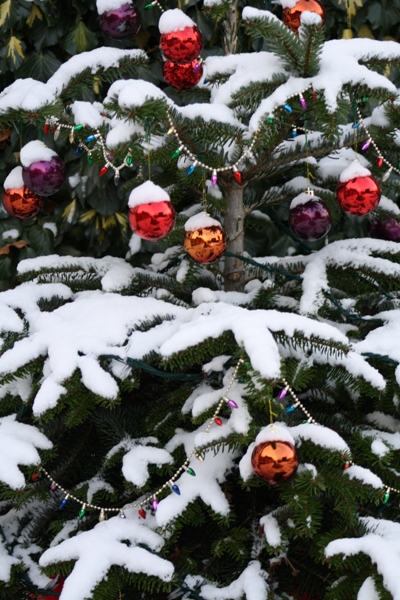 Finally gone is that balmy December weather and it's finally starting to feel like winter out there.  Despite our Halloween snow, it just hasn't felt too seasonal lately.  With the temp dropping, it's time to break out the old list of things to enjoy this winter season.
The Roadtrip
Hersheypark is about an hour and fifteen minute ride west and they host a holiday attraction every year that is certainly worth the drive. About 30 or so rides are open in the park, even in the cold. The park's historic carousel is certainly a winter-weather favorite. The Kissing Tower, a large gyro tower, gives riders a mellow trip 330 feet in the air, giving an expansive view of the park. For those seeking a little more thrill, The Claw is also open, however note that your face gets pretty numb after being whipped 35mph through cold air. For the holidays they also have light displays, a reindeer petting area, (really, really delicious) s'mores, and hot chocolate. Admission to the park is $12.95. If it gets too cold you can head over to the nearby Chocolate World to learn about how chocolate is made and take a free ride through a simulated chocolate plant.
If you're looking for a place to grab a beer before or after the park, Troegs recently opened up their new tasting room and they have some brewer-only stuff on tap. As I understand it there's no food there, but if you're looking for a pint or two this is your place.
Local Winter Shopping
Artsquest's Steelstacks is continuing their spring/summer/fall farmer's market indoors at the Artsquest Center throughout the winter months. It will be every Saturday from 12pm-4pm starting January 14th and running through March 31st. Purveyors include Apple Ridge Farm (eggs, bread, dipps, veggies), Balasia (veggie/vegan food), Hereford County Store (quiches, tarts, dips, soups, cake, cookies), Jett's Produce (greens, onions, cheese), Karen's Sweets (cupcakes, bread, cookies), and Y Know Alpacas (alpaca-made clothing).
The Westgate Mall, where no one goes and where nothing goes on, is now running the "Market at Westgate" every Wednesday from 12pm-7pm. There's currently a whopping 15+ vendors, ranging from tea purveyors and roast pork to pickles and produce. I remember going to the Westgate Mall when I was a kid and taking guitar lessons, having extra-sweet Coca Cola (their soda dispenser was jacked) at the restaurant in the front, and playing racing games in the arcade. In the past few years tons of businesses have either moved out of the mall for a new location or shut down completely. Maybe this will bring some new prosperity.
Finally, the Easton Farmer's Market is holding a "holiday mart" during December. Located at 20 S 3rd St in Easton, the market will host a slew of local businesses. Apple Ridge Farm (bread, eggs, greens), Beechwood Orchards (apples, applesauce, fruit butter, honey), Breakaway Farms (chicken, beef, pork, eggs), Creekside Bakery (baked goods), Dutch Hill Preserves (preserves, maple syrup), Dragonfire Sauches (hotsauce), Easton Salsa Co (salsa, hotsauce), Flour Shop (bread, pastries, cookies), Keepsake Farms (cheese, yogurt, eggs, veal), Josie Porter Farm (greens, potatoes, galic, veggies), Spreading Joy (chocolate, candy, cupcakes), Terra Café (coffee, prepared foods), and Quartz Hill Farm (herbs) are all on the list vendors, among others.  The market is running Saturdays 10a-3p until December 17th and Fridays 10a-3p during the Christmas and New Year's weekends.
Wine and A Nice View
One of the nicest places around that I don't get to visit nearly often enough is the Vyneskellar at Vynecrest Winery. The beautiful cellar to their shop/tasting room, this is a great place to spend a lazy weekend day. Open 11a-5p everyday, you can hit the upstairs for a tasting and pick up a bottle (or six), then head down stairs for some wine by the glass and a small cheese platter to relax. The view of the vineyard from the large windows surrounding the Vyneskellar is fantastic. It's a great place to sip a hearty red and enjoy a snowy vista.
Cozy Up to a Fireplace
If you're like me, your abode is unfortunately devoid of a fire place to sit next to during the bitterly cold Pennsylvania winter. So what to do? Go out to somewhere that has one. If you're doing the casino route, St. James Gate, the Irish-inspired pub, has a great fireplace surrounded by brick and comfy chairs. It's a nice little escape from the business of the casino. Perhaps my favorite fireplace in the valley is at The Farmhouse. It's downstairs just outside of the bar and is surrounded by large chairs. It's certainly reminiscent of sitting around a fireplace in a house. The only difference is here you have a wide variety of scotch, vintage beer, and food available at whim.  Bolete, the cream of the crop when it comes to valley restaurants, has a nice fireplace in their dining room that adds a nice glow to the room during a chilly evening meal.
Drink Seasonally
Gin and vodka drinks are really summer drinks.  Light and airy, they don't warm you up like you'd want a cocktail or beer to do when it's in the mid-20s outside.  Have a scotch or a cocktail made with a spicy rye to take the chill out of your bones.  The Farmhouse has a fantastic scotch collection, around 35 bottles strong.  The Bookstore Speakeasy is certainly the place to hit if you're looking for a hand-crafted tipple to knock back.  Emeril's Chophouse at the Sands Casino also has a few decent scotches so if you're in the area that may be a place to take a gander.
Beer-wise, the winter is all about stouts, porters, and barleywines.  The Brew Works, whether it be Allentown or Bethlehem, are both fine selections if you're looking for a stout or porter.  Liberty Street Tavern in Allentown boasts such a huge selection and tap list that it's impossible not to find something on tap fitting the "dark and hearty" descriptors.  Bonus?  Drafts there are ridiculously cheap.  If you're in Easton you might try Porter's Pub or Black & Blue as they both frequently have darker beers on tap, and if not, surely in bottle.
Snowy Outlook
Main Street in Bethlehem is particularly lively and good for people watching in December, but still carries a lively spirit after the Christmas decorations are all down.  The Rewired Cafe is a great spot to have an espresso or cafe au lait while watching the snow fall outside.  As an added draw, Alando's is in the back so you can grab some Kenyan dishes while you're hanging out.
Christmas-y Festivals
This year the north side, devoid of Christkindlmart, decided they were going to have a celebration with or without Artsquest.  This year the Christmas City Village set up in the Sun Inn Courtyard with a variety of different vendors, mostly crafts.  Back Door Bakeshop is there with hot chocolate, cider, bratwurst, soup, and baked goods.  Other food items include vegan/gluten free cookies and artisan cheeses.  The village is going until December 24th and is open Dec 9, 10, 11, 16, 17, 18, 22, 23, and 24th.  It's open from 11a-8p on Friday and Saturdays, 11a-5p on Sundays, and 11a-4p on Christmas Eve.
 Of course no Christmas in Bethlehem post would be complete without mentioning Christkindlmart. The annual German-influenced crafters market moved to the Steelstacks this year for the first time. A single day pass is $8. The market is open December 9, 10, 11, 15, 16, 17, and 18th. The hours are Thurs-Sat from 11a-8p and Sundays from 11a-6p. The festival is mainly crafters, however there's also a holiday show with lights and images projected onto the blast furnaces. Some of the food available includes crème brulee croissants, hot brownie sundaes, pulled pork, chai, espresso, Italian soda, pizza, truffles, liquor-infused cordials, nuts, apple sider, hot chocolate, soup, strudel, puffs, and lots more.
A Nice Drive
Lights in the Parkway is another Lehigh Valley staple during the holiday season. For $10 at the gate, or $6 in advance, you can take a car full of friends on a ride through Allentown's parkway to see the lights display. Sprawling and covering a significant amount of the park, the displays range from static trees to animated deer leaping across the roadway. Two cool (literally) options are horse-drawn carriage rides through the display or biking through the park. At the end of the ride there's a gift shack with hot chocolate and other refreshments. The event is running daily until New Year's Day from 5:30-10pm (closed on Christmas day).
Christmas Shopping, Tipsy
The Lehigh Valley Mall is a hellhole during the Christmas shopping season.  If you think otherwise, well, you're a goddamn lunatic.  This is where the little eatery and watering hole known as Dunderbak comes in.  With a pretty damn impressive beer list and authentic German knackwurst and the like, this is a fine locale to start your shopping adventures.  Have a beer (okay, three) and a German sausage of some sort and go merrily on your jaunt to spend too much money.  Seriously, even GQ endorses it.