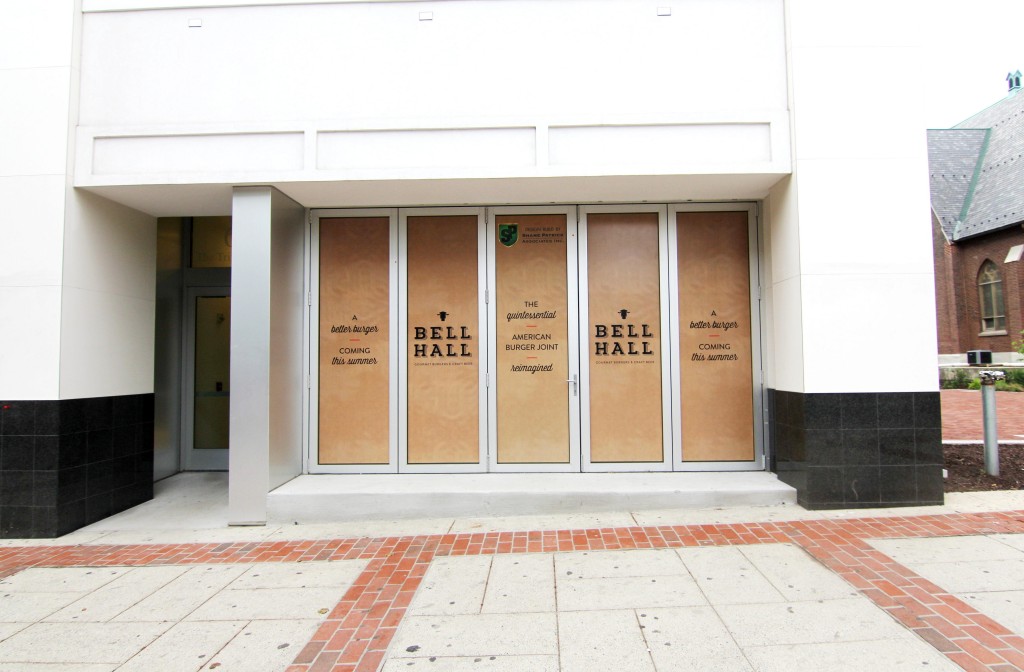 Bell Hall, a new burger and craft beer bar, is set to open later this year at 612 Hamilton St. in the Schoen's building, also now known as the Trifecta Building, in downtown Allentown.  New signage is now up promoting the restaurant, which was once a furniture store.  The building went through a $6 million rehab project just a few years ago and the owners hoped to have the restaurant open last year.  A lawyer for the owners told WFMZ last year that the restaurant will be a place "where a suit like me is going to be very comfortable or a guy wearing a Phantoms jersey also is going to be comfortable," which seems to be the case for many of the 'new American'-style restaurants popping up in the revitalized downtown area.  According to the liquor license transfer meeting, the restaurant will seat 225, with 15 of those being bar seats.
The restaurant's name seems to be a nod to the next-door Zion's United Church of Christ, which housed the Liberty Bell during the Revolutionary War.  The bell was moved to the church for hiding until the British occupation of Philadelphia, where the bell now resides again.  The church houses the Liberty Bell Museum, a popular historical attraction in the city.  Bell Hall joins a glut of new restaurants that have opened downtown with the new hockey arena, including Roar/Hush, The Hamilton, Tony Luke's, Chickie's and Pete's, Dime, Crust, Tim Horton's, and Johnny's Bagels as well as the coming restaurant from the owners of Bethlehem's Bayou, Shula's Steakhouse, and a to-be-named restaurant at 530 Hamilton.
We'll keep you updated with more information on Bell Hall as it becomes available.